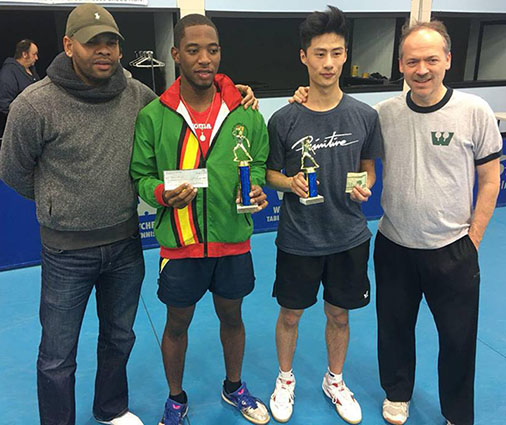 Guyana's table tennis ace, Shemar Britton was in excellent form over the weekend, capturing the Open 2350 category of the Westchester Table tennis championships Sunday.
Southpaw Britton defeated Stephen Chui in the final at the Westchester TTC run by former Caribbean men's singles champion Robert Roberts.
Britton, coached by former Caribbean men's singles champion Sydney Christophe, gained vocal support from his Guyanese teammates, winning his group matches before advancing to the quarterfinals where he defeated Alex Alardin.
He then served his way past D. Vrasath in the semifinals before taking revenge for his teammate Nigel Bryan who was beaten by   Chui in the semifinals.
Bryan secured a bronze medal.
Britton then carried his form into the 2500 Open category losing in the quarterfinals.
Other success for the Guyanese came off the racket Natalie Cummings who lost in the semifinals of the women's 2050 category.
According to reports Cummings lost a close encounter to the eventual tournament winner, in a match that she should have won.
Priscilla Greaves, 2017 Caribbean Girls singles bronze medalist, in the group stages of the 1900 division while national men's Table Tennis champion, Christopher Franklin, reached the round of 16 in the vaunted 2500 Open category.
The other male player, Joel Alleyne, lost in the semifinals of the 2250 category.
The tournament was used as a preparation event for Guyana's national table tennis team selected for the 2018 Commonwealth games scheduled for Gold Coast Australia April 4th-16th 2018 for which they enjoyed a good showing.
The team is being supported by 11-time men's national champion and 1992 Caribbean men's champion Christophe who will conduct an intense training camp with the team before they depart for Australia tomorrow.
Christophe will be supported by 2018 Caribbean women's veteran champion Diane Chance and Shawn Abrams who will perform coaching duties, videotaping and analysis for the team.
Speaking of the players' performances at Westchester, Christophe who is also an International Table Tennis Federation (ITTF) level three certified  coach and course coordinator said; "it was a good outing, showing and great preparation for the players for which he will engage  them for tactical and mental work  in the preparation camp schedule  27th to 30th March."
Caribbean men's champion Roberts in discussion with president of the GTTA Godfrey Munroe, indicated that he and participants from the championships were genuinely impressed with the talent displayed by the Guyanese and he offered some excellent advice for their improvement.
The team has switched to training camp mode under the watchful eyes of Christophe, commencing training at the Chinese Community Center Flushing NY 43-17 Union St Flushing NY. (Royston Alkins).
Around the Web