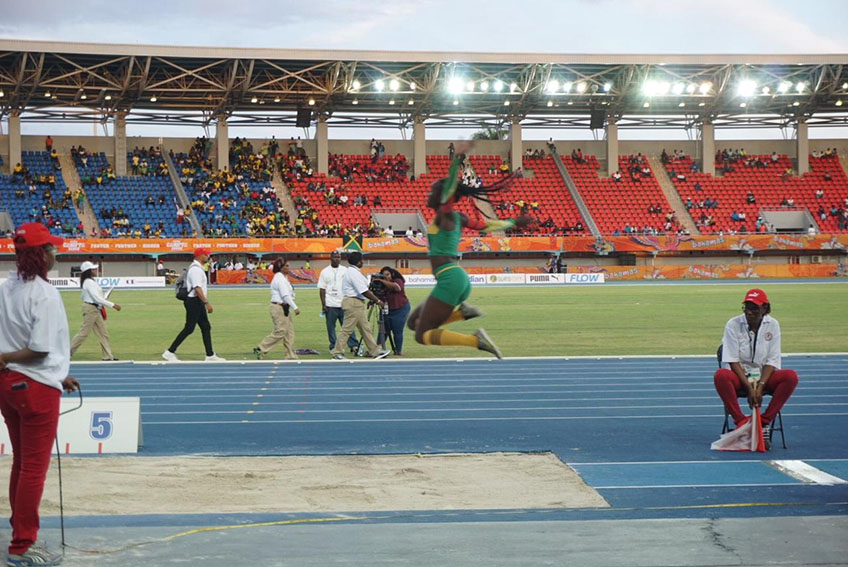 Chantoba Bright added another CARIFTA Games long jump gold medal to her collection yesterday when the 2018 Flow CARIFTA Games got off to a flying start here in The Bahamas.
Bright, who leapt to gold last year in the U-18 category, graduated to the U-20 ranks seamlessly and dominated the premier female leapers of the Region.
Bright who  will celebrate her 18th birthday on Wednesday flew through the air as high as a kite then disturbed the sand with a best jump of 5.95m, good enough to bag Guyana's first gold medal of the 47th edition of the prestigious games which concludes tomorrow at the Thomas A. Robinson National Stadium.
Lindener Bright led a five-medal haul for Guyana on the first day.
Middle distance athletes Shaquka Tyrell, Murphy Nash and Kezra Murray along with sprinter, Deshana Skeete all captured bronze medals.
Tyrell (4:55.97) kicked off the medal hunt in the U-17 1500m final, leading for the better part of 1300m before being overtaken by the Jamaican pair of Rushanna Dwyer (4:47.90) and Theresa Graham (4:48.30).
Murray was also a front runner for much of the U-20 1500m event, but a tactical error in the final 200m also cost her a potential gold. It was deja vu all over again as the Guyanese had to settle for the bronze after Shaqueena Foote (4:46.56)
and Kara Grant  4:47.52 both of Jamaica ran past her on the final turn.
In arguably the most tactical race of the day Nash was able to hold off a spirited challenge from Jamaica's Gianni Henry to grab the last podium spot in 4:13.59.
Henry's countryman, J'Voughnn Blake however took the top spot in 4:08.73. Bahamas'Mitchell Curtis (4:13.41) narrowly edged Nash for the silver.
Skeete, a gold medalist at last year's South American Youth Games ran her personal best (54.15s) in the U-17 400m final but Bahamas' Megan Moss (53.19s) ran a CARIFTA record to earn gold in the event.
Jamaica's Daniella Deer placed second in 53.95s.
Elsewhere in the field, Tortque Boyce finished fifth in the Boys U-20 High Jump with 2.0m.
Jaden Bernabela (2.08m) of Curacao, Bahamian, Kyle Alcine (2.08m) and Arnaud Dupe-Agot (2.05m) of Martinique were the podium dwellers in the event.
Earlier in the day, Daniel Williams finished seventh in the final of the Boys U-20 400m clocking a pedestrian 48.38s. Avon Samuels (U-20) pulled up after 100m in heat one and Katriel Perrier (U-20) finished sixth in heat two. 100m sprinters, Kenisha Phillips (11.86s) and Onasha Rogers (11.92s) finished fourth and third in their respective heats but could not make into the final eight.
Meanwhile, Track and Field powerhouse, Jamaica leads the medal tally after Day 1 with 22 medals, 12 gold, eight silver and two bronze medals.
Day 2 starts today from 09:00hrs.
Around the Web