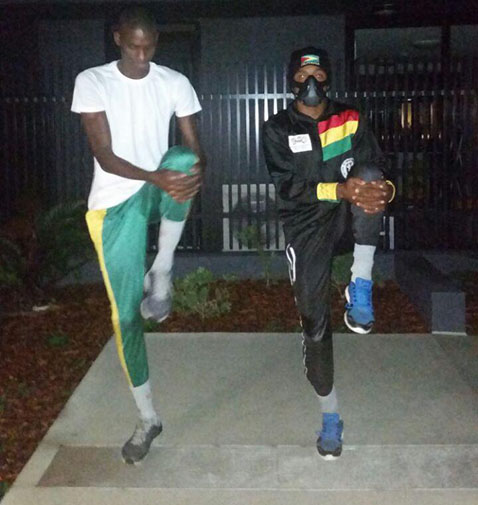 If President of the Guyana Boxing Association (GBA) Steve Ninvalle is granted a birthday wish, it would be for Keevin Allicock and Colin Lewis to return from Australia with hardware from the XX1 Commonwealth Games which starts on April 4.
The two local prize fighters spring into action on April 5 which coincidentally is the birth day of Ninvalle.
"I hope for good things to come April 5, especially for them" said Ninvalle yesterday who described the mood in the camp as "upbeat."
Training has been going along as planned, the team was afforded a nutritionist from today to work and the mood in the camp is upbeat".
Ninvalle further disclosed that 13 combatants will be in the flyweight division opposing Allicock while 24 boxers are in the light welterweight class with Lewis.
"Mathematically it would be a bit easier for Allicock to qualify but let me just say that's just mathematically." Ninvalle added that the two boxers are hungry to do whatever they can to make the country proud and we expect them to."
Meanwhile, the first Mike Parris Pepsi U16 Championships for 2018 will be staged on Saturday.
This is the sixth year that Pepsi will be sponsoring the event. Allicock is one of the standouts product that graduated from the annual fixture.
Note: 20 athletes from seven disciplines will represent Guyana at the XXI Commonwealth Games, commonly known as Gold Coast 2018, which will be held on the Gold Coast, Queensland, Australia between April 4 and 15.
The Golden Arrowhead will be represented in badminton, boxing, rifle shooting, squash, swimming, table tennis and track and field.
The outfits along with the 10 officials have varying departure dates prior to the Games, but will all be present 'Down Under' before the April 4th opening ceremony.
Around the Web