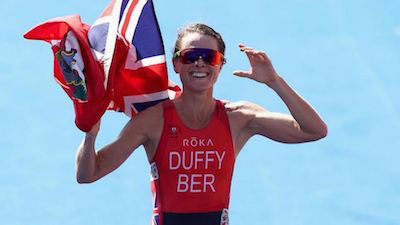 QUEENSLAND, Australia, CMC – Bermuda's Flora Duffy powered away in the final run leg to win the women's triathlon on the opening morning of competition at the 2018 Commonwealth Games.
The world No.1 women's triathlete entered the contest as the raging hot favourite and lived up to her billing, beating England's Jessica Learmonth and Canadian Joanna Brown for the gold medal.
The 30-year-old Duffy, a two-time world champion, hadn't won a medal in two previous trips to a Commonwealth Games or her three starts at an Olympics – and she was determined to put things right this time.
"It's pretty cool, it's going to take a while to soak in… a huge relief," said Duffy, the second Bermudian to win a Commonwealth gold and first of any colour by a woman from the island.
"The Games come around once every four years, they're quite elusive and hard to get. It was definitely a lot of pressure and expectation put upon me. I'm glad I could execute a normal race for myself."
Duffy went stroke for stroke with Learmonth in the ocean swim and pedal for pedal in the bike race over the first two legs, but she produced the third-quickest time over the five-kilometre run leg to put distance between herself and the Englishwoman to clinch the gold.
"We've raced together so much we have a common understanding," she said of Learmonth. "I know she'll pull through when she can and she knows I'll pull through when I can. She's a phenomenal swimmer and she really nailed the swim, which I was hoping she would, and I was just holding on to her."
Duffy said she was surprised however, that there was a gap of one minute by the time the bike race leg had been completed.
"When the gap got to about a minute (on the bike), we said that's great, let's keep it steady from here, no crazy surges because we've got a nice lead and we've still got to run," she said.
"Then towards the end of the bike I said, 'Well done, let's go, game on'."
Duffy said she was excited about returning home in a few weeks to celebrate with family and friends when she races in the ITU World Triathlon Bermuda on April 28.
Around the Web