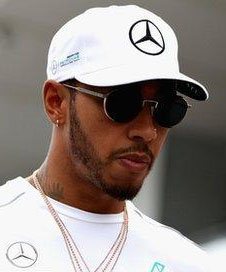 SAKHIR, Bahrain, CMC – Reigning world champion Lewis Hamilton will start from ninth for today's Bahrain Grand Prix, after being slapped with a five-place grid penalty over an unauthorised gearbox change.
The Brit had qualified fourth behind pole-sitter and nemesis Sebastian Vettel of Ferrari, with the other Ferrari of Kimi Raikkonen second and Mercedes team-mate Valtteri Bottas third.
Hamilton conceded that Ferrari's pace was concerning but said he still hoped to spring an upset.
"Ferrari have done a great job this weekend, they've got the pace and it's been a difficult weekend for me overall in general. I hope tomorrow I can turn it upside down," said the 33-year-old, whose paternal grandparents hail from the Caribbean island of Grenada.
"Today wasn't the best of days and tomorrow is going to be one of the hardest races for us in some time. We've been trying to get ahead of the Ferraris, but it has been tough, they just had the pace all weekend.
"It wasn't the greatest of laps from my side and Ferrari had the edge as they often do in these hotter conditions."
The result in final qualifying on Saturday was a disappointing one for Hamilton who needs a strong showing on Sunday to keep pace with Vettel, after losing the opener to the German in Melbourne a fortnight ago.
Vettel has won three of the last six races at Sakhir including last year's while Hamilton won the last of this two, three years ago.
However, Hamilton vowed to to give Sunday's race his all as he also weighed up the right tactical approach.
"The goal for tomorrow is damage limitation. I've got the soft tyre, so I should be able to go longer – it's going to be interesting to see, there's a couple of different strategies tomorrow," he explained.
"I'll try and eke out every last bit of power and strength from this car. I don't know what we are going to be able to achieve tomorrow but I will give it everything I've got and hope that I can do something."
Around the Web