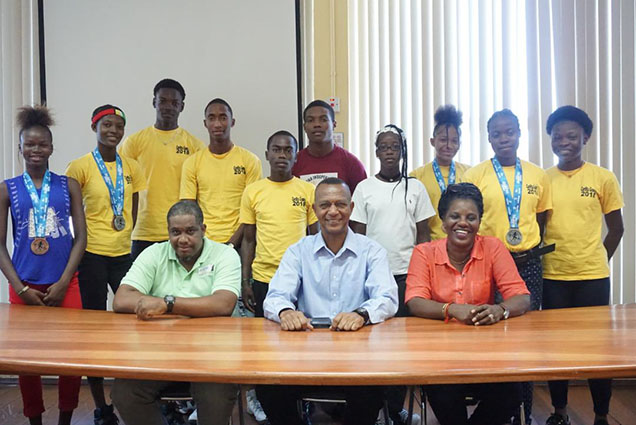 In his first official press conference following the Flow CARIFTA Games, President of the Athletic Association of Guyana (AAG), Aubrey Hutson commended the athletes for being great ambassadors for the nation while in The Bahamas.
During his comments which were made yesterday at the National Resource Centre, Hutson also thanked the officials and the stakeholders for making the sojourn a success where a record nine medals were earned during the March 31 to April 2 fixture.
Team Guyana's 17-member contingent captured nine medals, the largest haul to date. One gold by Chantoba Bright in the girls U-20 long jump, one silver by the girls 4x400M relay team and seven bronze medals made up Guyana's tally.
While congratulating the medal winners, Hutson also encouraged the non-medalist to continue to strive to better their performances.
During the annual Easter weekend event, numerous personal milestones were established by the young ambassadors, many of whom made their CARIFTA Games debuts.
Hutson stated yesterday that the just-concluded games was not the end of the season, noting that the 2018 South American Games, U-23 Championships, the World U-20 Championships and the CAC Games are all still ahead.
"We are looking forward to seeing you train hard and continue to bring recognition to Guyana," Hutson concluded.
Note: Sprinters, Kenisha Phillips (200m), Daniel Williams (200m) and Deshana Skeete (400m) are three local athletes who have surpassed the entry standard for the World Junior U-20 Championships scheduled for Tampere, Finland from July 10-15.
Around the Web