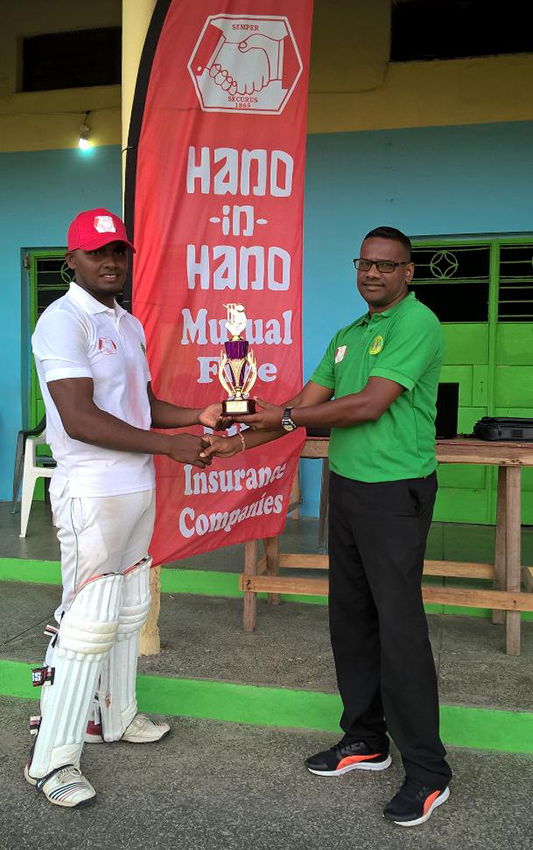 Alex Algoo completed a responsible century to lead Berbice to a nine-wicket victory over Essequibo on the second day of the third annual Guyana Cricket Board/Hand-In-Hand Mutual Fire and Life Insurance Three-day Under-19 Inter-County tournament at the Lusignan Community Centre Ground, East Coast Demerara yesterday.
Resuming on 149-3, Berbice were dismissed at the stroke of lunch for 222 before bowling out Essequibo for 145 in two sessions.
With a target of just four runs, Berbice lost one wicket in the process
with only two balls bowled in the innings.
Algoo, who rode his luck, was the only batsman to bat more than 70 minutes.
He resumed the day on 83 and first added a 50-run partnership with Javed Karim.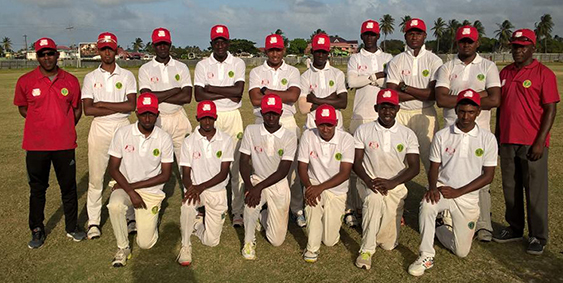 Karim, who resumed on 10, was dismissed for 13, the first victim of a rampant Joshua Jones in an over where he also removed Malcom Mickle without scoring.
Algoo, though, continued steadily while Essequibo began in a similar mode as the previous day, putting down Algoo on 86.
He lost partners rapidly with Jones ripping through the order, removing Trevon Stanislaus as his third victim and the lead of 98 with Berbice 178-6.
Nerves were evident as Algoo neared his hundred, attempting runs that were never there on 97 but a risky pull that went millimeters to the left of the man at square raced to the boundary to bring up the well-deserved hundred.
Algoo looked to accelerate but could only edge to the wicketkeeper to end his innings of 211 balls.
All told he batted eight minutes short of five hours and his 111, was half the team's total.
The special innings, which was in fact the only innings of a score more than 40 in the four innings of the match consisted of nine fours and two sixes.
Speaking with Stabroek Sports at the end of the match, the former national youth player said it was a difficult wicket to bat on and credit must go to the bowlers who did well to contain Essequibo in the first innings that allowed him to play a watchful innings.
Jones, who departed the field with a muscle strain, was unable to complete a five wicket haul, settling for 4-25 while his new ball partner Reyaz Khan picked up 2-24 and leg spinner, Sherlan Anthony, 2-79.
When the boys from the Cinderella County came to the crease, their innings started in similar fashion with watchful batting and the intention of spending a lot of time at the crease evident in the approach of Orlando Jailall and Kevin Christian.
The pair faced all but seven overs before the first wicket fell.
Lower down the order, three batsmen got into double figures but notably, all were done in a T20 style of batting. Quintin Sampson blasted Karran Arjpaul for consecutive sixes in the same over and repeated it once again. Sampson fell for 27, hitting four sixes.
Jones came with the similar style but paced his innings differently as he helped to see Essequibo ensure Berbice bat a second time hammering six boundaries including three sixes for his 39 from 37 balls. Essequibo were all out in their second innings for 145 after facing 56 overs. The wickets were shared among Stanislaus, Kevin Umroa, Kevin Sinclair and Keith Simpson who picked up two each while Arjpaul claimed one.
Algoo wanting to finish the game in style, was caught by the wicketkeeper claiming Jones' fifth wicket of the match.
However, Sinclair ended the game with a boundary as Berbice ended the game on 4-1.
Essequibo's coach Ryan Hercules said his team could have done better, pointing out their fielding was their main concern having dropped nearly a dozen catches.
He also said the batsmen did not bat long enough. However, Hercules said that there were some positive signs with the team almost doubling their first innings score as they head back to the drawing board.
Coach of the Berbice team, Andre Percival said that a lot of limited overs cricket was being played in Berbice pointing out that it was now time to get that mindset out of the batmen. Percival said he was satisfied with the total Berbice had made, judging from the conditions, that it was a difficult wicket to bat on.
Both team coaches spoke well of the bowling performances in the match.
Berbice will now face defending champions, Demerara at Georgetown Cricket Club while Essequibo will play Select Under-17 at Everest in the second round of the tournament which bowls off on Saturday.
Around the Web