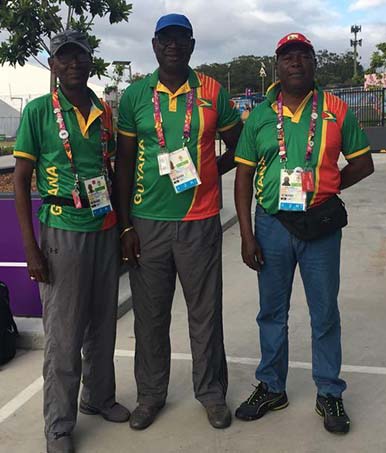 In the sport of fullbore shooting even a flawless day can see you down the grid and this is exactly the scenario with Guyanese Lennox Braithwaite who did not drop a single point on day one of the Commonwealth Games Queen's Prize Individual Finals.
According to a press release,  Braithwaite, the leading Caribbean marksman, shot possibles at the 300, 500 and 600 yards ranges 35:2, 35:5, 35:3 for a total of 105:10 but even with such  performance, ended the day in 8th place after seven other shooters also fired possibles at each of the ranges but had more Vs.Braithwaite's partner in the Pairs competition where Guyana ended 11th of the 16 competing nations and the top Caribbean country, Ransford Goodluck dropped four points and will go into today's second day in the 25th place.
At the three ranges, Goodluck posted scores of 33:4, 34:0, 34:2 for a total of 101:6. In the top spot is Australia's Jim Bailey (105:15) followed by New Zealand's John Snowden (105:14) and Brian Carter (105:14) in 2nd and 3rd, David Luckman of England (105:13), Ben Emms of Australia (105:13), Jersey's Barry Le Cheminant (105:12), Parag Patel of England (105:12) just ahead of Braithwaite.
Young Barbadian shooter Jason Wood is 23rd (102:4) two spots ahead of Goodluck. Jamaican Denis Nelson is 26th (99:6), Delborn Joseph of Trinidad and Tobago is next (98:7), Barbadian Richard Arthur (96:1) in 28th, Jamaican David Rickman (95:2) 30th, T&T's Michael Perez (94:5) 31st with the Antigua and Barbuda duo of Desroy Maile (92:3) and Edworth Benjamin (85:4) in the 32nd and 33rd positions.
Braithwaite will be aiming to replicate yesterday's performance today while Goodluck will seek to emulate his countryman when they aim from the same 300, 500 and 600 yards ranges. Tomorrow would be a practice day and dress rehearsal for Saturday's final two ranges, 900 and 1000 where Goodluck is usually much better.
Around the Web