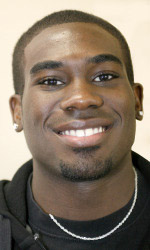 National javelin record holder Leslain Baird threw close to his best yesterday at the ongoing Commonwealth Games in Australia but could not clinch a finals berth in the field event.
Baird finished seventh in Group B of the qualifying round with a throw of 74.27m just off his best of 74.76m recorded in Trinidad two months ago.
The 30 year-old needed a qualifying performance of  78.00m or at least to finish among the 12 best performers to advance to the Final. He finished 14th overall among the 24 throwers from the two groups of 12.
Australia's Hamish Peacock was the best qualifier with a throw of 81.22m.
Meanwhile, Guyana's Troy Doris and Natrena Hooper are in today's final of the men's triple jump and women's high jump.
Doris, who was a finalist at the 2016 Olympic Games, is seeded fifth heading into the final and has a good chance of winning  Guyana's first triple jump medal at the prestigious Games.
In the seeding, Doris (16.33m) is behind Dominican, Yordanys Garcia (16.75m) who topped Group A and narrowly trails the top three jumpers from Group B, India's Arpinder Singh (16.39m), Namibia's Roger Haitengi (16.36m) and Muhammad Hakimi Ismail (16.36m) of Malaysia.
Hooper is seeded 12th of the 14 high jumpers in today's final.
Around the Web