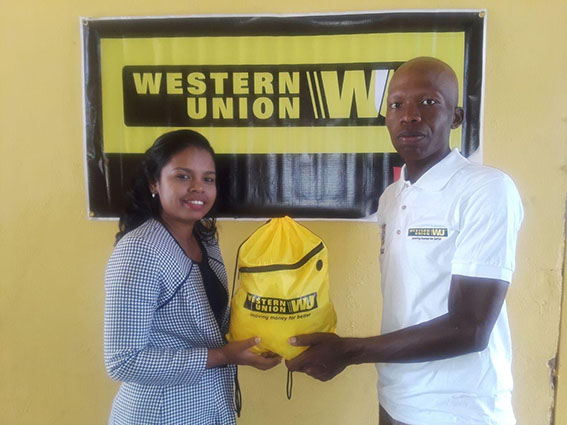 Thanks to donations from Grace Kennedy Guyana Limited, a dream will finally be realized for differently abled cyclist, Walter Grant-Stuart who has departed Guyana to participate in the UCI C1 Para-cycling event in Canada later this month.
Grant-Stuart has won the hearts of many because of his determination, having placed consistently amongst the top cyclists in the sport in the local arena.
Recognizing the talents of the Continental Cycling Club wheelsman, Grace Kennedy Guyana, one of the largest conglomerates in the region has found it necessary to help the talented young man achieve his goal at the same time fulfilling their social responsibility.
At a simple ceremony recently, the company presented Grant-Stuart with a monetary contribution that will aid in his trip to Quebec, Canada where he will take to the track in the C1 category since he has one hand after losing his right arm in an accident a number of years ago but rides the standard bicycle.
Since the announcement of his intention to take part in the event a number of sponsors have joined to assist in making the trip a reality including the National Sports Commission, Ansa McAl, the Guyana Cycling Association of North America, Kevin Jeffery, Andrew King, Guyana Cycling Federation President, Horace Burrowes.
Grant-Stuart will try to condition himself in the coming weeks as he is set to take part in the Time Trials and the Road Race on April 28-29.
Around the Web