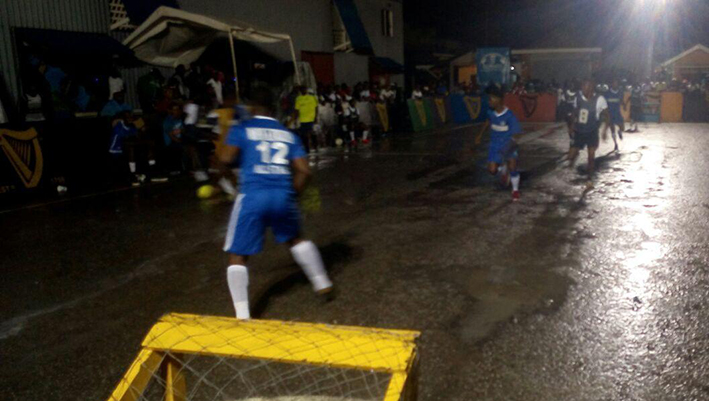 Defending champion Dave and Celina's All-Stars suffered defeat on the opening night of the Guinness 'Greatest of the Streets' Linden Championship, losing to Amelia's Ward Russians on penalty kicks on Sunday.
Scoreless at the end of normal time at the Mackenzie Bus Park Tarmac, Russians edged the defending champs 2-1 on sudden death penalty kicks in front of a large crowd that braved the persistent rainfall.
Meanwhile, Swag Entertainment dismissed Cherokee Park 3-1. Shane Luckie bagged a double in the third and 13th minute, while Colwyn Drakes netted in the sixth minute.

On target in the loss was Nantanbu Arbar in the ninth minute. Also, Team 25 squeaked past Young Kings 1-0. Teon Stewart scored in the eighth minute.
On the other hand, NK Ballers needled Assassa Ballers 1-0 compliments of a Jermaine Grandison strike in the 15th minute.
Similarly, Hard-Knocks brushed aside Amazings 2-0. Allon Alley and Marley Major scored in the seventh and 14th minute apiece.
In other results, Quiet Storm disarmed Big Guns 2-0. Kellon Adams and Jamaine Prince scored in the 12th and 16th minute respectively.
Action in the event continues on April 20th at the Silver City Hard-Court Tarmac with another six matches.
At 19:30hrs, Young Kings tackle Assassa Ballers, while Next Level oppose Wisroc from 20:00hrs.
In the third match, Cherokee Park face-off with Big Guns at 20:30hrs, while Team 25 engage NK Ballers from 21:00hrs.
The final two fixtures will pit Swag Entertainment against Quiet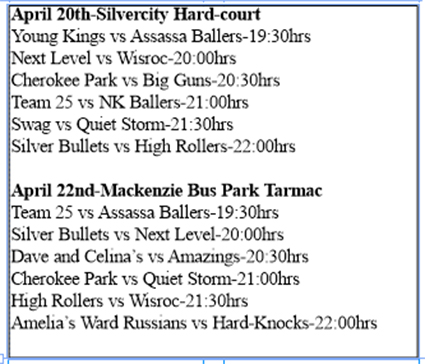 Storm from 21:30hrs, and Silver Bullets against High Rollers at 22:00hrs.
They will also earn an automatic berth to the National Championship. On the other hand, the second, third and fourth place finishers will receive $150,000, $100,000 and $75,000 respectively and the corresponding accolade.
Around the Web