Plaisance Guardians, Kobras and Ravens clinched contrasting wins in the GABF 'Road to Mecca' Club Championship, on Wednesday at the Cliff Anderson Sports Hall, Homestretch Avenue.
Guardians downed Half Mile Bulls 90-80. Akeem Crandon and Nikkoloi Smith led the victor with 24 and 20 points respectively, while Marlon Powdar and Marlon Chesney added 16 and 14 points apiece.
For the loser, Terron Welch recorded 25 points, while Vibert Benjamin, Kevin Easton and Jamal Bethune added 16, 12 and eight points correspondingly.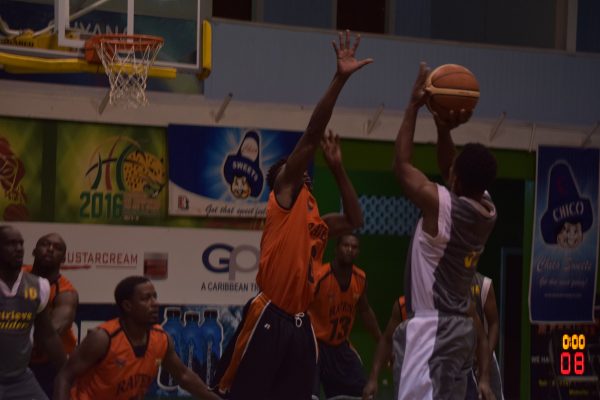 Kobras grounded Amelia's Ward Jets 70-60. Trevor Smith and Travis Burnett scored 13 and 12 points respectively, while Carlos Adams and Drexel Aaron netted eight and seven points each.
For the Jets, siblings Joel and Adrian Webster tallied 15 and 10 points respectively, while Denhill Benjamin scored eight points. Meanwhile, Ravens squeaked past Retrieve Raiders 52-51.
Dominic Vicente recorded 19 points while Ryan Stephney, Darcel Harris and Ralph Brown netted nine, eight and eight points respectively.
On the other side, Derron Montrose registered 11 points, while Sheldron Noel, Marvin Hartman and Selwyn Henry tallied 10, 10 and eight points each.
The tournament continues on Wednesday at the same venue with another round of matches.
At 19:00hrs, Eagles oppose Victory Valley Royals, while in the final fixture, Half Mile Bulls take aim at Canje Knights from 22:00hrs.
The competing teams are divided into two groups of six, with the resulting group winners and runners-up advancing to the semi-final round.
Group-1 features two-time defending champion Colts, Half Mile Bulls [Linden], Plaisance Guardians, Retrieve Raiders [Linden], Ravens and the lone Berbice representative Canje Knights.
Group-2 consists of Victory Valley Royals [Linden], Nets, Pacesetters, Amelia's Ward Jets [Linden], Eagles and Kobras.
The other playing dates are the 13th, 14th, 15th, 20th, 21st, with the semi-finals slated for the 22nd and the grand finale pencilled for the 28th.
Winner of the event will pocket $600,000 and a trophy, while the runner-up will receive $400,000 and the corresponding accolade. The third place finisher receives $300,000 and a trophy.
On the individual side, $200,000 will awarded to the Most Valuable Player (MVP), while $100,000 each will be awarded to the individuals that secure the Most Points, Most Rebounds and Most Improved Player accolades respectively.
Around the Web