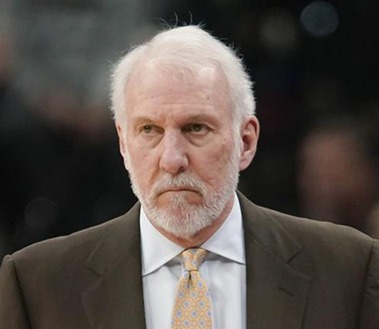 (Reuters) Kawhi Leonard played only nine games for the San Antonio Spurs this season, but the team has no greater offseason priority.
A meeting between Leonard, coach Gregg Popovich and other members of the executive staff is expected soon now that the Spurs are eliminated from the playoffs.
The crux of the conflict between Leonard and the Spurs is health, communication and a potential super-max contract.
Leonard was bothered by a quadriceps injury, attempted to return in January and then went back on the shelf. But during his absence, Leonard was distant from the team. Leonard maintained he was in New York for treatment and rehab and in mid-March, speculation mounted that Leonard might be ready for the playoffs.
But when it came time to make a call on his status, Popovich said he wouldn't be the one to ask, instead directing question to Leonard and his "group."
The Spurs' medical staff cleared Leonard to return to play in March. Leonard's personal medical team has decided to hold him out.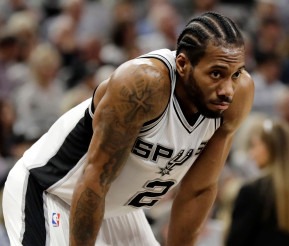 His last appearance on the court this season was Jan. 13.
Popovich did not coach the Spurs for the final three games of the series with the Warriors while mourning the death of this wife.
When last asked for an update on Leonard's status, Popovich said, "You'll have to ask Kawhi and his group that question. So far, they say that he's not ready to go. So we can't do anything until that happens. Then, we would have to decide what's going on from there. But that's the first thing that has to happen."
Popovich successfully navigated a similar situation last offseason, when a one-on-one session with forward LaMarcus Aldridge helped each side gain a better understanding of expectations. Aldridge was an All-Star in 2017-18, flourishing in the No. 1 scoring option role while Leonard was sidelined.
Leonard is eligible for a five-year, $219 million "super max" contract extension this summer. His current contract runs through the 2018-19 season.
Rudy Gay and Danny Green have player options in their contracts and could opt to leave.
San Antonio also has major decisions on the roster status of point guard Tony Parker, who made $15.9 million this season at age 35 but is now a backup, and Manu Ginobili.
"We'll see," Parker said. "I said already I want to keep playing. I'm happy I don't have those retirement parties. I want to keep playing, and we'll see if it's in San Antonio. Everybody knows I would love to stay here. But free agency is always crazy, so we'll see." Ginobili has taken several weeks to weigh his future in the offseason for the past three years.
"I like to let it season a little bit, to see how I feel. Don't expect news until July, probably. I just don't know. I let a month, two months go by and see how I feel. I'm not the type of guy who makes decisions on the fly, and when you are upset, hurt or whatever."
Around the Web