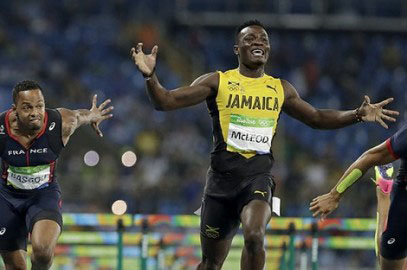 SHANGHAI, China,  CMC – Reigning Olympic champion Omar McLeod barely held off Spain's Orlando Ortega to win the men's sprint hurdles on a rain-drenched night at the Shanghai Diamond League here yesterday.
Running out of lane five, the Jamaican led from the start and cleared the final hurdle still in front, but was forced into a leaning finish, in order to prevent Ortega from sprinting through in lane eight to take the win.
The result was a world-leading 13.16 seconds while Ortega was timed at 13.17 seconds, with Russian Sergey Shubenkov finishing third in 13.27.
"I was kind of overcome with emotions because I've been through a lot this season," said McLeod, who missed last month's Commonwealth Games in Australia through injury.
"I was hurt a month ago. I still was feeling some slight pain, but I was like, 'I'm here.'"
He added: "My leg is a little bit sore but my body's in shock because it's just fatigue and I haven't been able to do a 110 workout in like a month. It's just a lot of emotions."
Commonwealth Games champion and fellow Jamaican, Ronald Levy, trailed in fourth in 13.33 while fellow countryman Hansle Parchment, who took silver in Gold Coast, was fifth in 13.48.
Meanwhile, women's Commonwealth Games 200m champion, Shaunae Miller-Uibo, continued her recent domination of the event when she clinched victory in meet record 22.06 seconds.
The Bahamian, in lane seven, dismissed a challenge from Dutchwoman Dafne Schippers at the top of the stretch before easily pulling away to take the line uncontested.
Schippers edged Jamaican Shericka Jackson for second in 22.34 seconds, while the Rio Olympics bronze medalist was third in 22.36.
Miller-Uibo won gold in the women's 400 metres at the Rio Olympics.
Steven Gardiner gave the Bahamas even more reason for celebration when he stormed to his second straight Diamond League victory, following his success in the Doha season-opener just over a week ago.  The 22-year-old ran a brilliantly controlled race, dismissing a strong challenge from Botswana's Isaac Makwala about 70 metres from the finish, to cross the line in 43.99 and post a new meet record.
Makwala was second in 44.23 with Qatar's Abdalleleh Haroun third in 44.51.  In the women's 400 metres, Jamaican Janieve Russell was second in 53.78 behind winner Dalilah Muhammad of the United States (53.77), with fellow Jamaican Leah Nugent sixth in 56.54.
Meanwhile, the Jamaican pair of Shanieka Ricketts (14.55 metres) and Kimberly Williams (14.35) took the lesser podium positions in the women's triple jump as Colombian Caterine Ibarguen claimed gold with a leap of 14.80. And Danniel Thomas-Dodd, also of Jamaica, grabbed silver in the women's shot put with a throw of 18.70 metres, behind China's Lijiao Gong who measured 19.99m.
Around the Web