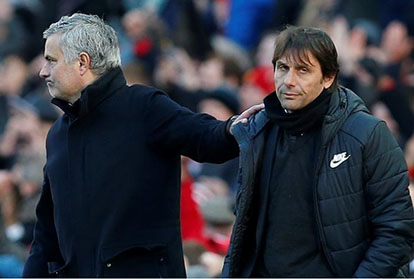 (BBC) Chelsea manager Antonio Conte says he will shake Jose Mourinho's hand when his side face Manchester United in the FA Cup final at Wembley today.
The two managers have endured a tense relationship during their time in opposing dugouts in the Premier League.
But Conte said yesterday: "Tomorrow I will shake his hand and both of us will think of the game.
"It is not important what happened [previously]. There is a normal relationship between me and him."
A long-running feud stretches back to October 2016, Conte's first season in England, when the Italian upset Mourinho with his celebrations following Chelsea's 4-0 home win over United.
In January, Conte described the Portuguese as "a little man" following a barbed exchange in the media.
Conte has been tipped to leave Chelsea this summer and when questioned about his future teased the media, declaring: "I can say for sure this will be my last match, this season.
"For me and my players it will be the last game for us. Then, as you know very well, I have a contract and I'm committed to the club."
Mourinho refused to speculate about Conte's future, saying: "Until it's official that Antonio leaves I don't know. Honestly, you ask me if I'm interested in it – I'm just curious about it.
"In relation to the match tomorrow, if it is his last match or if it isn't his last match I don't think it will change at all his approach to the game and his desire to make it through and his desire to win."
As well as his relationship with the Chelsea manager, ex-Blues boss Mourinho was also asked whether there was mutual respect with the Chelsea fans.
"The only thing I say in relation to Chelsea supporters is that since my first day in 2004 until my last day when I was sacked a couple of years ago, they were with me unconditionally," said the 55-year-old, who won eight trophies at Stamford Bridge.
Around the Web