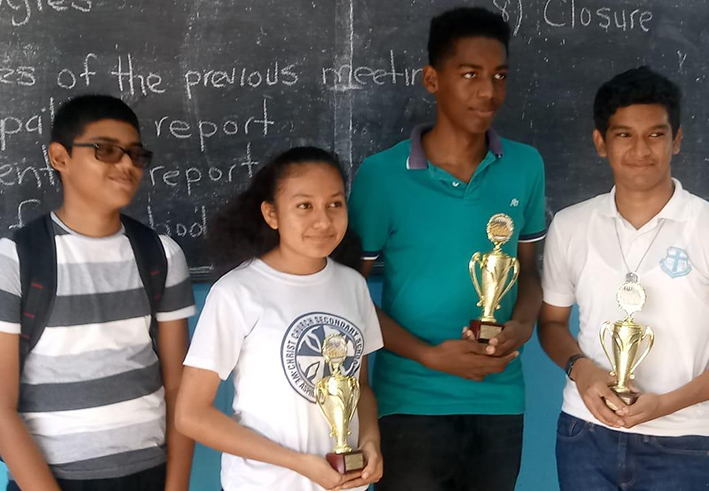 Marian Academy's Ethan Lee manoeuvered undefeated through seven games to win the Guyana Chess Federation/Wendell Meusa Foundation/Saint Stanislaus College Open Scholastic competition Saturday at the school's auditorium.
The 16-year-old, who recently obtained his FIDE ranking and sits fourth amongst the juniors countrywide, dispatched his schoolmate, Ricardo Ramlall, in the first round before going after Savir Gookul, Odit Rodriques, Mikhail Taylor, Ghansham Allijohn and Waveney Johnson in that order.
Taylor was the only one who posed a threat to the champion with a bishop up for some pawns but lost the exchange due to inaccurate calculations and a back rank mate threat.
Taylor took the second spot and was crowned the school's champion with 5.5 points while Allijohn copped third place based on the Swiss Manager Chess Programme tie break system ahead of Johnson who also closed on five points.
Johnson, though, walked away with the best female player award in the event that for the first time invited other schools to participate.
According to National Chess Coach, Meusa, the tournament highlighted a lot of young prospects including Rodrigues, Andrew and Alexander Ally and Ronan Lee while Chelsea Juma and Gookul continue to improve.
Meusa added that the younger faces especially in the Primary Schools are also showing talent, pointing to the likes of Zion Desir, Jamal Landery, Ricardo Ramlall, Nickle Charles and Walton Bradley.
Mean while it was revealed that the GCF with the help of the National Sports Commission, is seeking to host the National Inter-Schools Chess Championships.
Around the Web