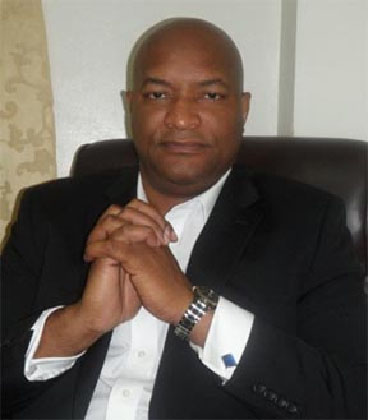 Guyana Amateur Basketball Federation (GABF) Chief Nigel Hinds says that the core of the Guyana team for the 2018 CBC Championship in Suriname will feature in the International Tour of Barbados from June 8th-10th.
In a brief interview with Stabroek Sport, Hinds said, "We have a team going to Barbados on the 8th and coming back on the 11th. We are cutting the team for the tour around June 5th. That will be the nucleus of the team that will go onto Suriname. We will just have the spots for the overseas-based players."
According to Hinds, "The three games will be played against the Barbados National Team at the Sir Garfield Sobers Complex. When we return we will recommence training with that squad. We already have two overseas based players here in Anthony Moe and Kevon Wiggins. Ray Victor will be meeting up with us in Barbados from BVI [British Virgin Islands] and we expect the James brothers Delroy and Gordon to come in after we return from Barbados. We are not sure about Shawn James."
He added, "In Barbados we will compete, in the Caribbean it's basically who gets their overseas-based players. As we are now, we will compete with Barbados and have a good chance of beating them."
Asked about the chances of the team during the tournament, Hinds declared, "Once we get the two James, we have a very good chance. Even without them we believe we will make the semifinals but with them we can go all the way and win the tournament. Suriname is the main competition in the group."
Guyana will feature in group-A of the prestigious championship, alongside host Suriname, St Lucia, Grenada and St Vincent and the Grenadines.
On the other hand, Group-B comprises Barbados, Bermuda, Antigua & Barbuda, Haiti and Montserrat.
The locally based players currently in training are Shane Webster, Timothy Thompson, Shelroy Thomas, Stanton Rose, Harold Adams, Orlando Glasgow, Terron Welch, Chris Williams, Travis Burnett, Dominique Vincente, Nathan Saul, Dave Causeway, Travis Belgrave, Akeem Crandon, Nikkoloi Smith, Domair Gladstone and Curt English.
Around the Web