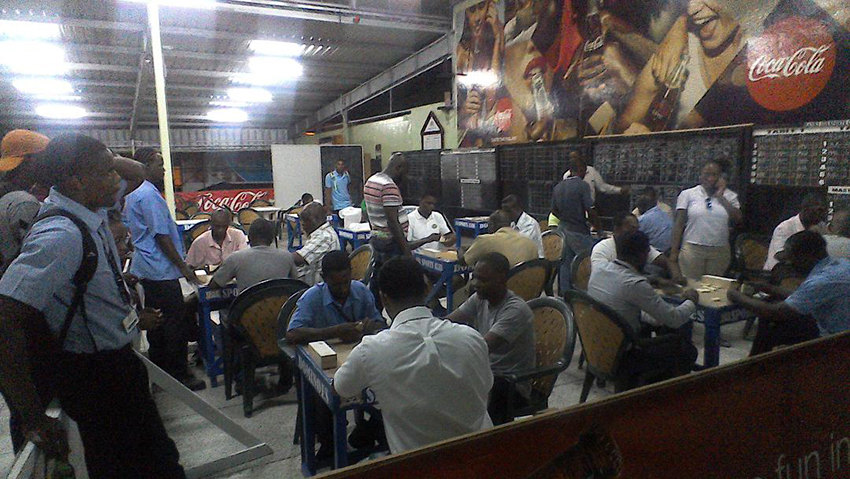 Maintenance Plant advanced to the second round of the Banks DIH Limited 'President's Cup' Inter-Department dominoes tournament by overcoming Vehicle Workshop and Bottle Plant in an absolute thriller of a clash on Monday.
Played at the Thirst Park Sports Club, Maintenance Plant displayed their championship credentials in a calculated manner, ending on 78 games to upset traditional giant Vehicle Workshop who finished on 73 games.  
Bottle Plant brought up the rear with 66 games and was eliminated from the tournament.
Maintenance secured the early advantage, after ending the first round on 13 games, edging Bottle Plant who finished on 12.
Vehicle Workshop struggled as they ended on six games.  Bottle Plant fought back in the second round, securing 14 games to take the lead with 26  games. The experienced Vehicle Workshop reduced the deficit by securing 14 games to end on 20 while Maintenance Plant dropped to second position with 25, after recording 12 games.
Bottle Plant extended their brief advantage in the third round, scoring 14 games to move to 40 while Maintenance and Vehicle Workshop recorded 13 and 14 games apiece to end on 38 and 34 games respectively.
The momentum of the clash changed in the pivotal fourth round, with Maintenance Plant recording 15 games to seize the lead with 53 games.
Vehicle Workshop also recorded 15 games to finish on 49, while Bottle Plant only mustered 10 games to end on 50.
Maintenance Plant marginally increased their lead, as they recorded 12 games to enter the final round on 65. Bottle Plant and Vehicle Workshop both scored 11 games to end on 61 and 60 apiece, setting up a tense finish.
The victory was then sealed as Maintenance Plant Department scored 13 games.
Sitting in third place for most of the contest, Vehicle Workshop moved into the second position on 73 games after registering 13 games.
Bottle Plant capitulated in the final round, scoring a meagre five games to end on 66. The competition continues today at the same venue.
Winner of the tournament will receive five cases of Guinness and a championship trophy while the runners-up will pocket five cases of Banks Beer and the respective accolade. The third place finisher will pocket five cases of Malta and the corresponding trophy.
Around the Web