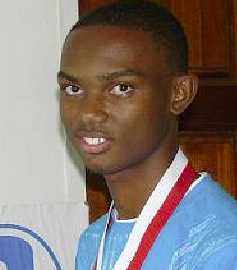 Twenty-four- year-old Anthony Drayton has been awarded the title of FIDE Master (FM), following his participation at the recent Sub Zonal Chess tournament in Jamaica.
Drayton is the first male Guyanese to hold the title and only the second behind Woman FIDE Master (WFM) Maria Varona-Thomas.
Though Drayton does not hold the current FIDE points, (2100) to have the title behind his name, he stated that the new rules allowed him to have the title conditionally.
Vice-President of the Guyana Chess Federation (GCF), Irshad Mohammed confirmed this and referred to the FIDE handbook 0.62 which states: "If an applicant is rated lower, the title is awarded conditionally and will be awarded finally on request by the respective federation as soon as the minimum rating is achieved.  Any player with a conditional title may take a lower title when they reach the required rating for that lower title."
Drayton earned himself a total of 51 rating points, moving his total to 2024 and making him eligible for the conditional award.
In the nine-round tournament, Drayton earned five wins and two draws, playing against five FMs.
Drayton started with a rank of 32 but by the end of the competition he was ranked 14th.
Speaking to Stabroek Sport, Drayton acknowledged that this was the hardest tournament he has ever played but nevertheless said that he was thankful for his accomplishment.
The new FM added that he will aspire to earn the necessary points to get the title behind his name but that can only be accomplished by playing stronger opponents.
The other male player, Loris Nathoo, started well with a win over FM Malaku Lorne in the second round.
Varona-Thomas and Yolander Persaud were the two other participants representing Guyana.
"The GCF is proud of proud of the performances," said Mohammed. He, however, said that there is a lot of room for improvement among the female players.
Mohammed said he expected Varona-Thomas to do better
especially against some of the players who were rated lower than her.
Around the Web