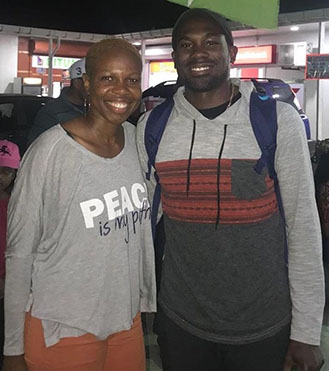 2018 Commonwealth Games triple-jump gold medallist Troy Doris is excited about competing for the first time in the 592 when the third edition of the Aliann Pompey Invitational (API) comes off tomorrow at the National Track and Field Centre, Leonora.
The USA born Doris who hopped, skipped and jumped to Guyana's first triple jump gold medal at a global games, in April, in Australia, arrived in Guyana on Wednesday night, and the 29 year-old was beaming about the opportunity to put his talents on display in front of the local fans.
 "I've basically competed against most of the guys and I'm looking forward to the challenge and competing in Guyana," he announced.
Doris who has been representing Guyana since 2015, will face Cuban Jordan Diaz, touted by many in his country, as the next World triple jump champion. Quite a technician, Diaz is the World Under-18 Champion and Junior World record holder at 17.32 metres.
Joining Diaz will be last year's champion from Suriname, Miguel Van Assen who holds his country's national record in the event, as well as the CARIFTA and South American titles.
Van Assen's personal best is 16.94 metres. The Surinamese is also the 2014 Summer Youth Olympic Games champion.
The triple jump at this year's API, could steal the show since also confirming his participation is Bahamian, Leevan Sands.
Sands won bronze at the 2008 Olympic Games, as well as bronze at the World Championship and Commonwealth Games. He is a Pan American Games silver medallist and multiple gold medallist at the CARIFTA Games.
Meanwhile, the meet's headliner, Grenada's 400 metres Olympic and World Champion, Kirani James was expected to arrive last night. A final press conference is scheduled today at 11:00hrs at the Sleepin International Hotel and Casino.
Fly Jamaica, E-Networks, Quality Plus, Banks DIH, the Ministry of Communities and SleepIn International Hotel and Casino are some of the sponsors onboard.
Action starts at 15:00hrs and tickets cost $1,000 and $5,000 (VIP).
Around the Web