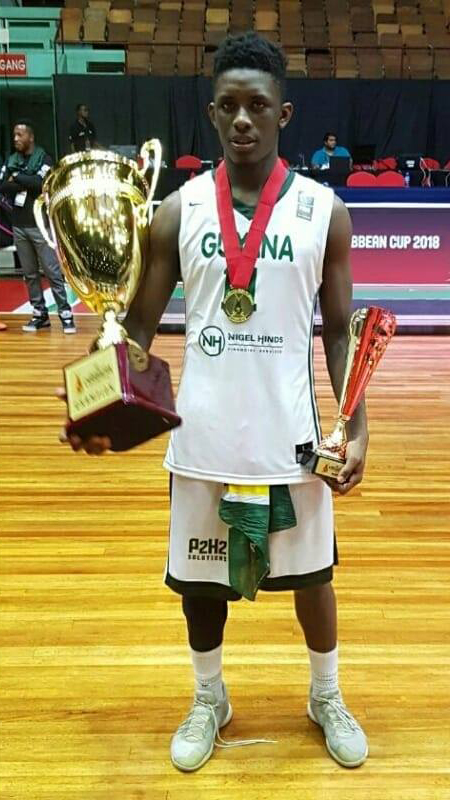 The previous two times Guyana and Antigua and Barbuda battled at the Caribbean Basketball Confederation (CBC) championships (CARICOM) the boys from St. John's came out victorious.
In the 2011 battle at the Kennedy Isaacs Gymnasium in Nassau, capital of The Bahamas, Antigua and Barbuda won 76 to 51.
Floor general Lennox Mc Coy was the top scorer with 16 points while Wayne Walker supported with 15 points and 11 rebounds and Julius Hodge added 15 points and eight rebounds.
For Guyana, Keron Mc Kenzie had the game-high 21 points while Dwayne Roberts supported with 12 points and six rebounds.
Antigua and Barbuda also won the 2015 battle in Tortola, 80 to 60 at the Multi-Purpose Sports Complex.
Gordon James top scored for Guyana with 19 points. He also had 15 rebounds. On both of those occasions Guyana took the proverbial "knives to a gun battle."
However, when the two rivals clashed again in the CBC 2018 men's team final Saturday night at the Anthony Nesty Sports Hall in Paramaribo Suriname, it was a different team, a different atmosphere and a different outcome.
Unlike 2011 and 2015 the boys from the Land of Many Waters, led by Stanton Rose, backed up by field marshals Anthony Moe, Ray Victor and Shane Webster, showed their more experience opponents no mercy. The white towels were thrown in as early as the third quarter and Rose and his troops were crowned CARICOM Kings. When the final whistle blew, the score read Guyana 83 to Antigua 70.
This basketball territorial war between the two countries started at the inaugural Caricom tournament in Guyana in August of 1981.
Guyana won that clash 86 to 75. Stanislaus Hadmon with 24 points was the main contributor while there were support from Compton `Lofty' Hinds, 14 points, Orin Cumberbatch, 14 points and skipper Hewley Harry, 12 points.
Antigua's top scorer was Wayne Harris with 27 points and Mark Christian with 16.
In the 1988 clash at the Cliff Anderson Sports Hall, Antigua won 75 to 58, Auric Tappin top scored for Guyana with 25 points.
In the 2000 clash at the Sir Garfield Sobers Gymnasium, Bridgetown Barbados, Guyana won 74 to 64. Lorenzo Withrite, 17 points and nine rebounds, Captain Lugard Mohan 15 points and the late Deryck Boyd with eight points, eight rebounds and five steals were the principal contributors.
For Antigua, David Davis scored 29 points and Mario Davis 16 points.
In 2007 in Puerto Rico, Guyana won 78 to 68. Gordon Klaiber, 34 points and 18 rebounds, Carl Benn, 10 points, Withrite 10 points and 10 rebounds were the main contributors.
For Antigua Joshua Clinton top scored with 21 points and 15 rebounds while Lennox Mc Coy netted 16 points and had 12 rebounds.
Please find below Guyana CBC Captains since 1981.
Hewley Harry                     Eagles                   1981
Hewley Harry                     Eagles                   1982
Eon Andrew                       Pacesetters            1985
James Brusche                  Y.M.C.A. Kings        1986
Leon Christian                   Hi Flyers                 1988
Leon Christian                   Hi Flyers                1991
Auric Tappin                    Mackenzie Hawks        1994
Lugard Mohan             Ravens (Co-captain)       1995
Leon Christian           Hi Flyers Co Captain        1995
Lugard Mohan             Ravens                         1996
Lugard Mohan             Ravens                        2000
Antric Klaiber              DC Jammers                2007
Steve Neils Jr.,              Kings                          2011
Rawle Marshall                                               2014
Akeem Kanhai             Ravens                         2015
Stanton Rose                Colts                       2018           
Around the Web