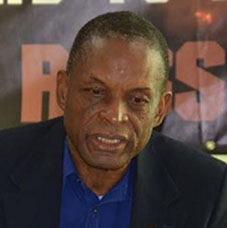 ZURICH, Switzerland, CMC – Football's world governing body, FIFA yesterday slapped St Vincent and the Grenadines Football Federation president, Venold Coombs, with a two-year ban and a hefty fine after finding him guilty on corruption charges.
FIFA in a statement said it had investigated Coombs's re-sale of tickets for the 2014 World Cup and discovered that he had breached its Code of Ethics relating to bribery and corruption, conflicts of interest and loyalty.
He has been banned from all football-related activities at both national and international level and fined US$40 000.
"The investigation into Mr Coombs was opened on 9 June 2016 and focused on the resale of tickets for the 2014 FIFA World Cup Brazil," FIFA said in a statement. "The investigatory chamber analysed allegations that Mr Coombs had sold tickets purchased by the SVGFF and by him personally, in his capacity as a FIFA standing committee member, for a profiteering mark-up.
"The adjudicatory chamber found Mr Coombs guilty of having violated articles 21 (Bribery and corruption), 19 (Conflicts of interest) and 15 (Loyalty) of the FIFA Code of Ethics. "Mr Coombs is therefore banned for two years from all football-related activities (administrative, sports or any other) at both national and international level. A fine in the amount of USD 40,000 has also been imposed on Mr Coombs."
FIFA said it had also informed Coombs of its decision on Tuesday, with the ban taking immediate effect.
Coombs is the latest Caribbean football official to be sanctioned by FIFA, following a number of high profile cases in recent years.
Last year, Antiguan Gordon Derrick, president of the Caribbean Football Union, was banned for six years on similar bribery and conflict of interest charges, and fined US$31 000.
Around the Web