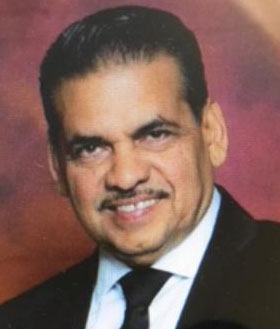 The Berbice Cricket Board (BCB) and Executive Chairman/ Chief Executive Officer (CEO) of NAGICO, Imran Mc Sood Amjad have teamed up to provide financial sponsorship for the visit of Joseph 'Reds' Perreira.
Perreira, the widely respected international cricket commentator and sports administrator would be visiting Berbice from July 19-22 as part of a comprehensive development programme.
He will meet with players, umpires, BCB Executives and representatives of clubs as part of an effort to strengthen management at the Club and Board levels.
NAGICO sponsorship would cover expenses for accommodation, meals, transportation and a One-Day Seminar with one hundred persons.
BCB President Hilbert Foster who is spearheading the historic visit expressed gratitude to Amjad for his timely support and also to former BCB Secretary Oscar Ramjeet for working beyond the call of duty to assist Berbice cricket.
 Ramjeet has single handedly assisted the BCB to raise over $2M in sponsorship from overseas based Guyanese.
Perreira would also be meeting with all of Berbice Under-15, Under-17, Under-19 and Female Cricketers as part of a comprehensive personal development programme. The Berbice Cricket Board and the Rose Hall Town Youth & Sports Club, MS would also be honouring the legendary Commentator for his service to Cricket.
Amjad  is the Chairman and CEO of NAGICO Insurance which has its Head Office in St. Marten. The Company has offices in 22 countries and is one of the top Insurance Companies in the Caribbean. Amjad played cricket in Guyana alongside the likes of Faoud Bacchus, Rupert Gomes and is a passionate lover of the game.
He is the founder of the St. Marten Cricket Association and sponsored the Leeward Island Cricket Association Tournament for ten years. NAGICO also sponsored the West Indies Cricket Board 50-Overs Tournament for several years.
Ramjeet, who served as Berbice Cricket Board Secretary in 1965, stated that he was humble to serve Berbice Cricket once again as he was very impressed by the vision and passion of the current Executives.
Around the Web