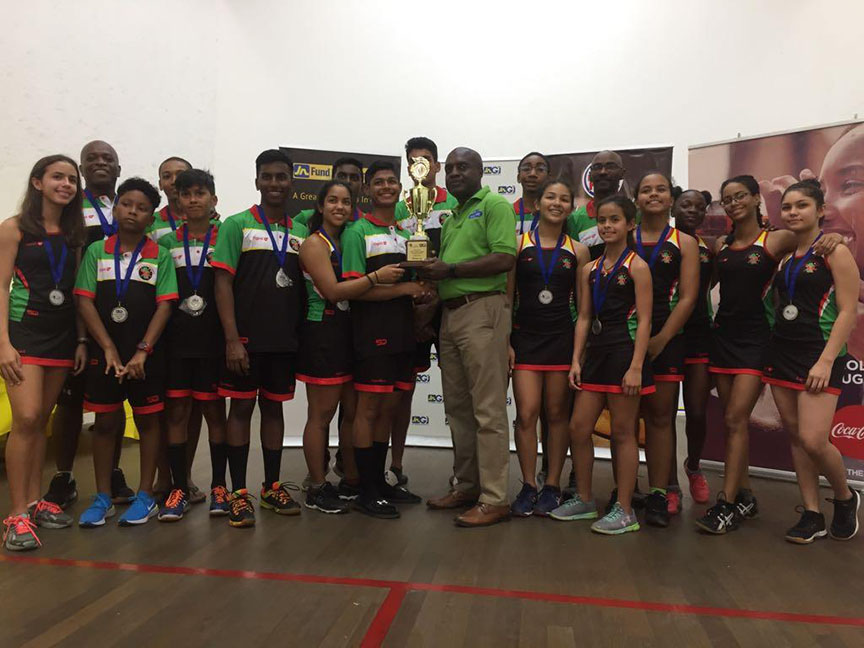 Guyana's junior squash team had to settle for second in the overall category of the Junior Caribbean Squash tournament after being defeated by defending champions Barbados in Jamaica yesterday. 
Yesterday's encounter in both the boys and girls' categories were virtual finals after both teams played unbeaten in the previous four rounds.
However, it was Barbados who were the ones to come out victors in the two finals. 
The girls' division saw Barbados retaining that title with a 4-1 win over the South Americans with Megan Best defeating Madison Fernandes 11-2, 11-1, 11-0 while Jada Smith – Padmore had the better of Kirstin Gomes 11-7, 5-11, 11-6, 11-2.
 Barbados' other two wins were delivered by Amanda Haywood who downed Rebecca Low 11-3, 11-2, 11-4, while a repeat of the Girls U15 singles finals saw Sumiraa Suleman once again overcoming Abosaide Cadogan 9-11, 11-7, 11-5, 12-10, 11-8.
 Georgiana Fernandes, though, presented Guyana with a consolation win after she overcame Rebekah Nicholas 11-5, 11-8, 8-11, 11-2.
 The boys, on the other hand, were able to eke out an additional win in their 2-3 loss to Barbados.
The two wins for Guyana were delivered by Daniel Islam who defeated Chemar Burnham 11-7, 11-5, 11-5 and Shomari Wiltshire, who got the better of Darien Benn 11-9, 11-5, 11-6. 
Rithew Saywack, Alexander Cheeks and Michael Alphonso dropped their matches against Khamal Cumberbatch, Josiah Griffith and Aidan Parris respectively.
Around the Web