Kerwin Clarke, Emmerson Campbell and Chandini Khan shone the brightest among the stars of local bodybuilding when the flagship National Championships was staged Sunday evening at Parc Rayne.
Clarke posed and flexed to his fifth overall Mr Guyana Bodybuilding title, Campbell carved out a third National Men's Physique win and Khan was flawless in her execution in the bikini segment during her debut on the National Championship stage.
In front of a large, vocal audience, Clarke clad in a blood red pouch, outmuscled former Mr. Guyana, Lindie Sharpe in the light middleweight class then used his sharp physique to slice through the competition in the overall pose down of class champions, Chetram Nagessar (bantamweight), Marlon Bennet (lightweight), Caerus Cipriani (welterweight) and Carlos Petterson (heavyweight) .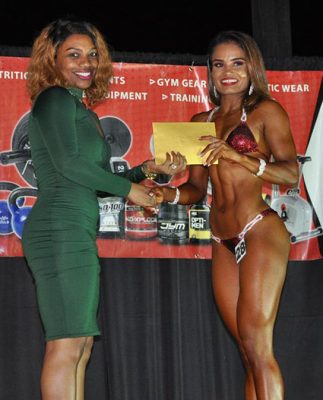 After a calf injury which led to a sub par showing last year that subsequently led to Bruce Whatley (absent this year) dethroning him, the 171-pound mass of striated muscle was in sublime stage shape and brought the striated quads, horse shoe triceps and barn door back we have come to expect.
The two-time bronze and one time gold medalist at CAC was peeled and brought arguably his best ever conditioning to compliment his superior shape and symmetry.
His structure, muscle definition and balance was more than enough to carry him through to victory.
The 30 year-old Space Gym product will now move on to represent Guyana at the CAC Championships in Mexico in two weeks.
Men's Physique
While Clarke chiseled out his fifth win, Campbell dethroned former champion, Yannick Grimes. The Fitness 53 athlete earned the title once again ahead of  Grimes (Space Gym), Cipriani (Life Gym) and Nagessar (Fitness 53).
Among a group of the four physique competitors, Campbell brought the shape and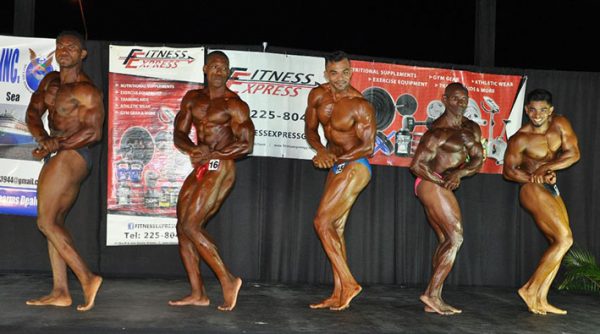 stage presence the judges most wanted to see.
He was confident, well-proportioned, well-muscled and conditioned.
Ms. Bikini and Ms. Body Fitness
Khan from Fitness Paradise Gym was the near perfect mix of muscularity, symmetry, beauty and style and took home the trophy for the queen of Bikinis of the 592. Clad in a glistening red two-piece, Khan relegated Space Gym mates, Angelica Barroncas and Ms. Bikini Novices champ, Diciula DeSousa to second and third in a close battle for the top honors.
Alisha Fortune, the lone athlete in the Body Fitness class, presented an exhibition routine to the large crowd at the venue.
Around the Web