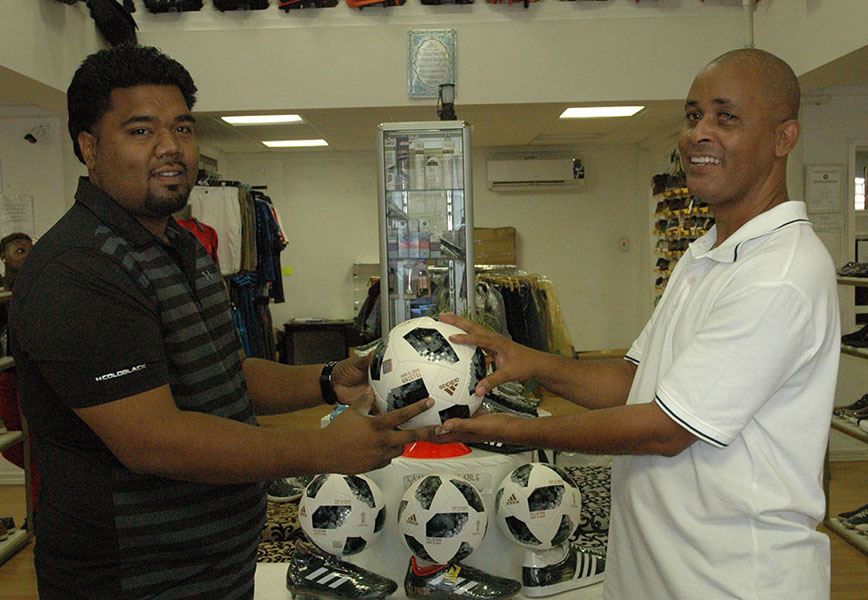 Clothing giant, Chetsons 'Home of Originals' became the latest entity to throw its support behind the second annual Guinness Cage street-ball championships by  donating an undisclosed sum and several footballs.
The simple but significant presentation occurred last Thursday at the entity's Wellington Street headquarters, home of several notable sporting brands inclusive of Under Armour and ADIDAS, as well as being the official authorized agent of the popular and established English footwear Clarks.
Inshaan Ramkellawan, Managing Director of the entity, donated four replica size four ADIDAS 'Telstar' FIFA World Cup balls to tournament. The company is the authorized distributor of the World Cup ball, which can be purchased in several sizes for $6000. 
Receiving the gesture was Rawle Welch, Principal of Three Peat Promotions.
During brief remarks, Ramkellawan said that he was pleased to support the initiative, as a way of giving back to the respective communities which will foster social cohesion and camaraderie amongst the participants.
Welch, in his response, thanked the Managing Director for his company's timely support which, he said, will contribute significantly to the success of the event. He added that all efforts will be taken to ensure that the vision of integrating communities and its citizens is achieved, while a similar exertion will be made to guarantee fans safety.
The tournament, which had its inaugural introduction last year at the National Gymnasium, will be staged at the Haslington Market tarmac from August 7th-September 1st.
Some 24 teams will feature in the event, with 12 from the East Coast villages and the remaining sides coming from the environs of Georgetown, Linden and West Demerara.
This year's edition has been dubbed 'East Coast Best versus the Rest', with over $800, 000 in cash and prizes up for grabs at the end of the exciting five nights.
Around the Web