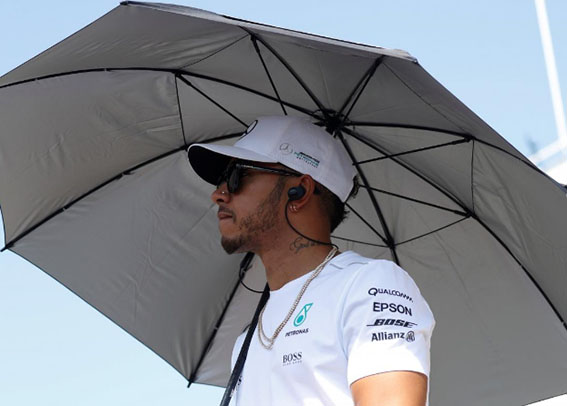 LONDON, CMC – Four-time Formula One world champion driver Lewis Hamilton has signed a contract that will see him continue to race for Mercedes for at least two more seasons.
Hamilton, whose paternal grandparents hail from Grenada and who was honoured by that Caribbean island during its 2008 Independence celebrations, signed a new contract that will last until the end of 2020.
The 33-year-old Briton will earn at least £30m a year, rising to a maximum of £40m, depending on bonuses.
Hamilton said a new contract had been "a formality" since he sat down with Mercedes F1 boss Toto Wolff to begin discussions last winter. 
"It's good to put pen to paper, announce it and then get on with business as usual. I have been part of the Mercedes racing family for 20 years and I have never been happier inside a team than I am right now." Hamilton said.
"We are on the same wavelength both on and off track and I am looking forward to winning more in the future and shining even more light on the three-pointed star. I'm very confident that Mercedes is the right place to be over the coming years."
Mercedes have dominated F1 since the introduction of turbo hybrid engines in 2014, winning four consecutive drivers' and constructors' championship doubles.
Hamilton has won three of those titles, with the fourth going to former team-mate Nico Rosberg, who retired after becoming champion in 2016.
Wolff said he was delighted to have Hamilton, F1's first black driver, extend his time with Mercedes.
He said while Hamilton was one of the "all-time greats" he still believed he had much more to accomplish.
"We signed the final documents this week and didn't want to keep people waiting any longer! "There is not much about Lewis as a Formula 1 driver that hasn't been said already – he is one of the all-time greats and his track record speaks for itself," Wolff said.
"Mercedes has become Lewis' home in Formula 1. I am very confident that we have some incredible chapters of our story together still to come."
Mercedes still have to confirm the identity of Hamilton's team-mate after this season, but Finn Valtteri Bottas is expected to be confirmed in the coming weeks.
Around the Web