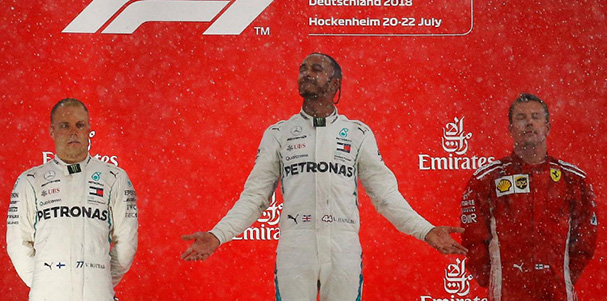 HOCKENHEIM, Germany, (Reuters) – Lewis Hamilton raced from 14th to first to seize a "miracle" German Grand Prix victory in a Mercedes one-two yesterday and retake the Formula One championship lead from Ferrari's Sebastian Vettel, who crashed.
Vettel, now 17 points behind the Briton after starting eight ahead, led his home race from pole position until rain caused chaos in the closing laps, with the German sliding off and into the barriers.
Hamilton, the reigning world champion, took the chequered flag for a recorde qualling fourth German Grand Prix win, ahead of his Finnish team mate Valtteri Bottas and Ferrari's Kimi Raikkonen.
"I've never had a race like this," said the four-times champion, who was summoned to stewards after the race for a pitlane infringement but escaped with a reprimand and the victory intact.
"Today I feel like I drove the best that I can remember driving. I didn't make any mistakes."
It was the 66th win of his F1 career, and Mercedes' 80th, and minutes after the finish, the skies opened with an array of thunder and lightning and a torrential downpour that would have stopped any race.
"Miracles do happen, mate," Hamilton's race engineer Pete Bonnington told him over the radio after a slow-burner that turned into one of the great comebacks of the Briton's already stellar career.
Hamilton, who threw himself across the pitlane wall into the arms of his mechanics and also got a bear-hug from delighted Mercedes-Benz boss Dieter Zetsche, seemed about as stunned as anyone.
"I really feel that the rain has come down and just washed away any negativity and its a glorious day," Hamilton said, his voice wobbling. "It couldn't have been a better day for me andone that I will always remember."
Beaten by Vettel in his home British Grand Prix at Silverstone two weeks ago, where he went from pole to the back of the field and up to second, he had turned the tables completely.
"Love conquers all," declared Hamilton, who had reacted defiantly on Instagram to the booing and hostility from a partisan crowd after his car broke down in Saturday's qualifying.
"It's obviously very, very difficult from that position and highly unlikely but you've always got to believe," added the four-times champion, who said a long prayer before the race started.
"I really manifested my dream today."
For Vettel, it was simply a nightmare — the chance to make big gains slipping through his hands in an instant. He now has 171 points to Hamilton's 188.
Around the Web