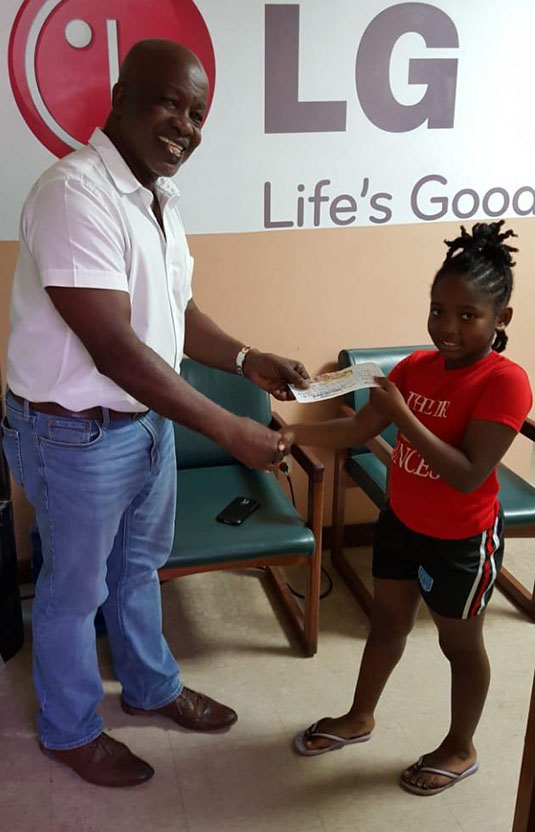 Car Care continued its social duty and deep ties with sports this time providing full sponsorship to eight-year-old Jasmine Billingy who will travel to the Caribbean Pre Cadet Table Tennis Championship which is set to run from August 24 to September 1 in the Dominican Republic.
According to Billingy's father, Colin, the sponsorship came at the right time and was initiated by the First Baptist Church, of which she is a member.
The father, a former Guyana Under-19 rugby player, said the family was grateful to the sponsors for the timely contribution towards the young talent's future as she aims to represent Guyana and medal.
Billingy, who plays for the Titans Club had excelled in the sport having joined the club at the age of six.
However, her skills were heightened this year and she placed second in the girl's Under-9 and Under-11 categories of the annual Mashramani championships.
She returned to cop the top spot in the divisions at the Guyana Table Tennis Association's trials.
The family related that they were extremely proud of the young lady as she is set to represent Guyana in her first overseas tournament. Coach of Billingy, Colin France, a former three-time national men's singles champion himself,  said she is a natural talent, having coached her since she entered the sport.
France pointed out that her discipline and commitment to the game at this tender age is unlike any that he has seen.
The family added that it was important for her to balance religion, sports and education as they strive to mold her into a well-rounded person.
Around the Web