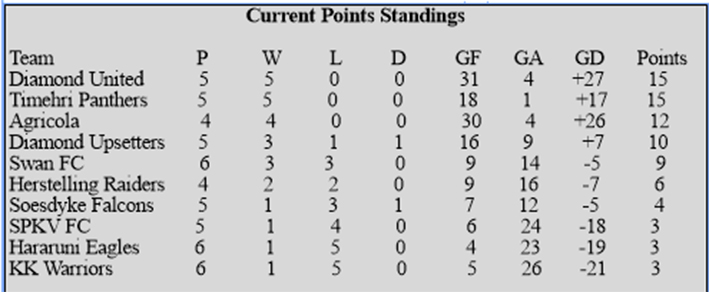 Diamond United, Agricola, Diamond Upsetters and Timehri were among the winners when the East Bank Football Association (EBFA) / Juicy Juice Under-13 League continued Sunday at the Timehri Red Ground.
Diamond United downed Samatta Point/Kaneville 4-1. Shaquan Joseph bagged a double in the 37th and 52nd minute while Joel Ross and Rick Ramotar scored in the 19th and 49th minute respectively.
Denzel Hunte scored for Samatta Point/Kaneville in the first minute. Similarly, Agricola crushed Swan FC 6-0. Eon Daniels tallied a helmet-trick in the 18th, 19th, 22nd and 59th while Floyd Boyce and Seon Grant scored in the fifth and 38th minute apiece.
Diamond Upsetters crushed Kuru-Kururu 6-1. Mohammed Amin recorded a double in the 43rd and 52nd minute, while Mario Richards, Shancie McCracken, Abdullah Amin and Shaquan Gilkes, scored in the second, fifth, 19th and 41st minute each.
Also, Timehri Panthers whipped Soesdyke Falcons 2-0. Omar Sam and Joshua Clenkina scored in the 22nd and 29th minute respectively.
Meanwhile, Herstelling Raiders edged Hararuni Eagles 2-1. Albert Adams scored twice in the 26th and 52nd minute. The Eagles netted in the 45th minute. On Saturday at the same venue, Diamond United downed Hararuni Eagles 10-1. Joel Ross scored twice in the sixth and 15th while Shakeem Welcome scored in the 11th and 16th minute and Shaquan Braithwaite added a double in the 51st and 53rd minute.
Adding goals were Shaquan Joseph, Isaiah McPherson, Daniel DaCosta and Ronaldo Adams in the 24th, 45th, 57th and 60th minute respectively. The Eagles recorded a consolation goal in the 43rd minute. 
Similarly, Agricola crushed Samatta Point/Kaneville 10-0. Eon Daniels smashed six goals in the seventh, 10th, 20th, 30th, 45th and 60th, while Floyd Boyce added a brace in the 42nd and 59th minute.
Assisting with a goal in the 21st minute was Jonathan Andries, while an own goal in the first minute handed Agricola the lead.
Herstelling mauled Kuru-Kururu 4-1. Ofancy Winter tallied a hat-trick in the 15th, 32nd and 52nd minute, while Solomon Austin added a goal in the 59th minute. Kuru-Kururu registered their lone goal in the 58th minute.
Meanwhile, Soesdyke and Diamond Upsetters battled to a 3-3 draw. Brothers Abdullah and Mohamed Amin scored in the 23rd and 43rd minute, while Shawn John scored in the 41st minute for Diamond Upsetters. 
For the Falcons, Malachi Pollard recorded a double in the 55th and 60th minute, while Jaden Tasher netted in the 25th minute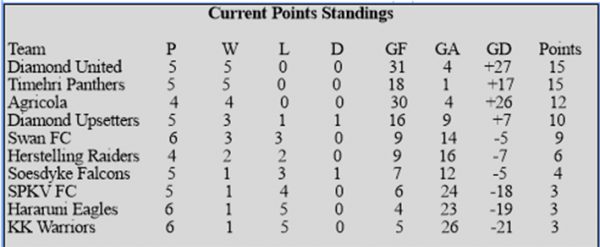 Around the Web