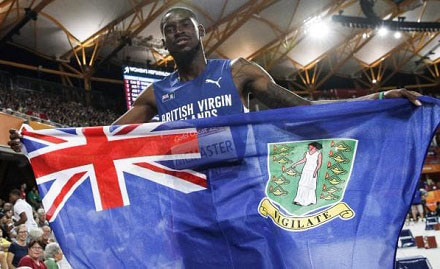 BARRANQUILLA, Colombia, CMC – Reigning Commonwealth Games champion Kyron McMaster added yet another trophy to his collection when he broke an eight-year games record en route to gold in the men's 400 metres hurdles at the Central American and Caribbean Games here Tuesday night.
The third fastest in the world this year, the British Virgin Islands athlete stopped the clock at 47.60 seconds – his second fastest time ever – to eclipse Jamaican Leford Green's old mark of 48.47 set in Mayaguez back in 2010.
Jamaican Annsert Whyte clocked a personal best 48.50 to clinch silver while the Dominican Republic's Aquino Santos picked up bronze in 48.77, also a personal best.
Another Jamaican Shawn Rowe missed out on the podium when he trailed in fourth in 49.30.
The 21-year-old McMaster, who won Commonwealth gold in Gold Coast, Australia back in April, said the success was his way of honouring his small country.
 "Today was really more about the country. It is my contribution, but nothing to do with me personally," he explained.
"I just wanted to come out and run for the country. I am leaning a lot with my new coach. We are just combining, mixing and playing with new things. The Games represent the area where we grew up, our beginnings, our heritage." With the victory, McMaster became the fourth athlete from the BVI to win CAC gold.
Jamaica captured the corresponding women's final as Ronda Whyte stormed to the finish first in a time of 55.08 second, with Mexico's Zudikey Rodriguez finishing second in a personal best 55.11. Cuban Zurian Hechavarria also clocked a personal best 55.13 in capturing bronze but there was disappointment for Jamaican Rushell Clayton (55.30) and Trinidadian Sparkle McKnight (55.56) who finished fourth and fifth respectively.
There was further success for the English-speaking Caribbean when Barbadian Shane Brathwaite produced a personal best run to win the men's sprint hurdles in 13.38 seconds.
Trinidad and Tobago's Ruebin Walters copped silver in 13.57 hile Cuban Roger Valentin was a close third in 13.58.
In the women's equivalent, Haiti's Vanessa Clerveaux stopped the clock at 13.07 to capture silver, following home winner Andrea Vargas of Costa Rica in a personal best 12.90.
Jamaican Jeanine Williams was forced to settle for silver in 13.11 but there was no such fortune for Guyanese Jenea McCammon (13.40) and Barbadian Kierre Beckles (13.48) who were seventh and eighth respectively.
Jamaica, meanwhile, managed yet another gold courtesy of Ramone Bailey who left it late before coming up with his winning leap of 8.07 metres to take the men's long jump.
Bermuda's Tyrone Smith was second with a personal best 8.03 while Trinidadian Andwuelle Wright snatched bronze in 7.94. Guyana's Emanuel Archibald barely missed out on a medal when he finished fourth with a jump of 7.83, a personal best.
In the men's 200 metres, Jamaican Rasheed Dwyer posted a personal best 20.19 seconds to finish second in semi-final one and qualify for Wednesday's final.
He was joined by countryman Jahnoy Thompson who clocked 20.23 to finish third in the second semi-final where impressive Trinidadian Kyle Greaux sped to a personal best 19.97 in finishing second. Alonso Edward of Panama reset the games record for the third time on the day when he edged Greaux in 19.96.
Colombian Navas Baloyes had earlier broken Churandy Martina's eight-year-old record with a run of 20.04 in the heats only to reset his own record when he won the first semi-final in 20 seconds flat.
In the women's 200m, Jamaican Jodean Williams won the first semi-final in a personal best 22.88 seconds, with Trinidadian Semoy Hackett (23.01) and French Guiana's Gemima Joseph (23.74) also booking their spots in the final.
Williams's teammate Shashalee Forbes stormed to victory in semi-final two, clocking 23.02. Trinidadian Kayelle Clarke (23.57) finished second, Cuba Adriana Rodriquez (23.65) was third and Laverne Jones (23.93) of the US Virgin Islands, fourth, to all qualify.
Around the Web