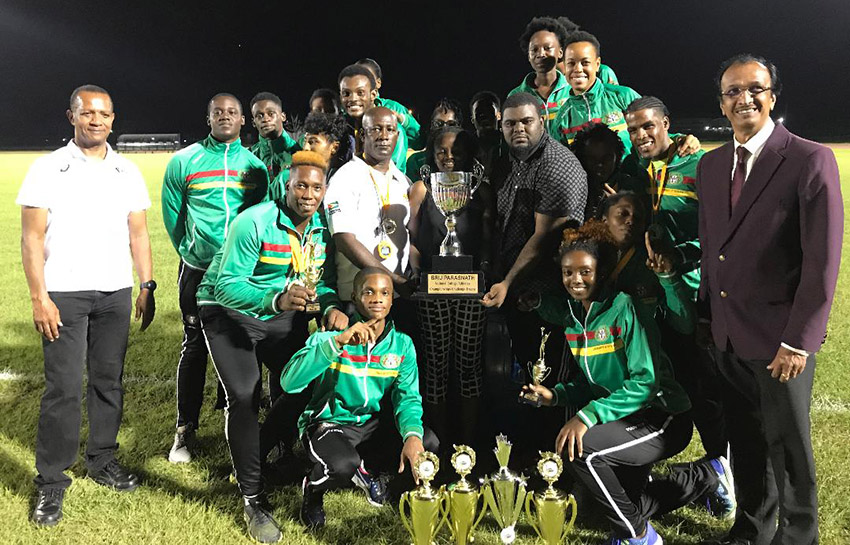 Aubrey Hutson, President of the Athletics Association of Guyana (AAG) declared that the inaugural BrijParasnath National College Athletics Championships was "a great start and a grand success".
After in historic BrijParasnath National College Athletics Championships was successfully concluded at the Leonora National Track & Field Stadium, West Coast Demerara; there was much joy, happiness pleasant memories etched in the minds among all the participating athletes, coaches, officials and supporters who made it a celebrated occasion.
And the person who was most satisfied was the AAG President who decided to launch the NCAC with a view of ensuring that there is a forum for Guyana's budding athletes to pursue their athletic careers alongside their academic advancement.
Hutson was present at the Ministry of Youth and Sports' National Sports Commission (NSC) office at Homestretch Avenue in December 2016 when his former Bladen Hall Multilateral School teacher Brij Parasnath was present an outlined programmes that he had pioneered as the one of the first five Ministry's former Regional Sports Organiser (1973-74) and successful First Class Secondary School graduate teacher of the Cyril Potter of Education (1974-77).
Parasnath was the founder and main organiser for the first ever Guyana Institutions of Higher Education Athletics Championships that featured the University of Guyana (UG), Cyril Potter College of Education (CPCE), Guyana Technical Institute (GTI) and Guyana School of Agriculture (GSA) on December 5, 1995 at the Police Sports Club, Eve Leary. And he outlined the benefits of such an important activity in the lives of students at these tertiary level institutions.
Hutson decided to take up the challenge to rekindle Parasnath's vision and dream for holistic development for students attending institutions of higher learning.
In his opening remarks before the Championships got underway with many hotly-contested events, Hutson said that "Mr Parasnath was my school teacher, my coach, my mentor and it gives me great pleasure to spearhead the drive to organise the National College Athletics Championships to keep his dream alive. It's a real honour to stand here today and to know that we are starting something special that gives all of you a chance to develop your athletic careers while you are attending your respective institutions."
In light-hearted mood, Hutson added: "And I hope that one day in the future when I get older, that one of my students- among you; will take up the mantle and carry on this legacy and make me proud to sit in the stands and enjoy the competition."
 After the successful completion with the University of Guyana (UG) being crowned the triumphant champion team; Hutson declared that "the inaugural Brij Parasnath National College Athletics Championships was off to a great start and now provides a new platform for Athletics in Guyana and the Caribbean. Everyone was really happy and excited and expressed their great satisfaction how everything went off smoothly. I wish to publicly express my own overwhelming feeling of satisfaction and to state that the inaugural Championship was a grand success."
Hutson was very elated with the response from all the athletes and officials who were involved in the exciting action. He was grateful for the response from twenty one educational and training institutions which participated in the heats and trials.
Hutson also expressed sincere thanks to the Minister of Education, Nicolette Henry; and Minister of Social Cohesion, Dr George Norton; who offered their support and blessings as well as Sports Director Christopher Jones who also supported in a tangible way.
 The Organising Committee was headed by Hutson and Championships Commissioner Laverne Fraser-Thomas. They worked in conjunction with other directors and technical personnel and came in for a lot of praise and commendation for the very successful Brij Parasnath National College Athletics Championships that now presents a great opportunity for the nation's academically-inclined youths to also be able develop their sporting talents.
Hutson stressed that: "This great start of the Brij Parasnath National College Athletics Championships will become a success story for Track and Field in Guyana and in the Caribbean. These events will help our athletes to build their athletic careers around their school studies."
"It will create an attraction for our athletes to stay in Guyana and pursue their academics up to the University level or other tertiary level institutions."
Apart from the brilliance of newly-crowned champion athletes Osafa Dosantos (male) and Ruth Sanmoogam (female) as well as Carifta Games multiple champion Chantoba Bright and Guyana's latest sprint sensation Emmanuel Archibald; there were many other notable performances.
UG also led the points table with 328 points and secured their first lien on the Brij Parasnath Challenge Trophy. Leonora TechVoc TC finished second with 100 points while Sophia Training Centre (77) was third with 77 followed by New Amsterdam Technical Institute and Vryman's Ervin Training Centre were joint fourth with 43 each; Cyril Potter College of Education 40; Mackenzie High 36; New Amsterdam 23; Georgetown American University 18; St Roses High 17 and President's College 14.
UG's athletes Osafa Dos Santos (36 points, with double gold in shot out and discus and double silver in javelin and high jump) and Ruth Sanmoogan (38 points, which comprised of three golds in 100, 200 and 400 metres and one silver in long jump) copped the top Male and Female awards respectively.
Parasnath is at extreme right. 
Around the Web