Team Cocos' Jamaul John retained his road race title by edging home in a three-man dash to the finish line in the 14th annual Reagan Rodrigues Memorial 46-mile road race sponsored by Ricks and Sari yesterday on the West Bank of Demerara.
John shaved off 15 minutes from the previous year's winning time, clocking one hour, 41 minutes and 38 seconds as his closest rival, Linden Bauxite Flyers' Michael Anthony missed out by a wheel.
Speaking to this publication after the race, John said that it was not particularly easy but it was an "ok" race with the small lead pack not being able to keep as much distance from the second pack where John was trailing.
In the dash to the line 800 metres out, the group maintained their dominance to end in a photo finish.
Notably, earlier in the race, a police outrider had clipped the back wheel of one of the cyclist sending him into the air before landing on a vehilce's windscreen. Luckily he sustained minor injuries.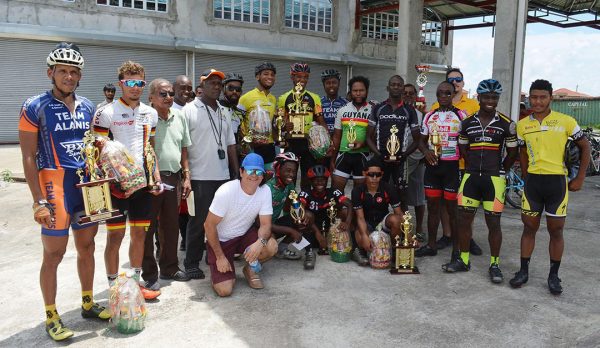 Race organiser, Hassan Mohammed thanked the sponsors for keeping the memory of Rodrigues, a former president of Carton Wheelers Cycle Club and the Guyana Cycling Federation alive and congratulated the riders for an outstanding day.
Evolution's Paul DeNobrega cruised into the third spot while Marcus Keiler (Cocos), Alanzo Ambrose (Team Alanis) and Jernel Yearwood (Linden Bauxite Flyers) finished off the top six in that order.
In the juniors' division, Adealie Hodge continued his dominance while Ray Wilson was the runner-up.
Meanwhile, in the veteran's event, Alanis' Paul Choo-Wee Nam dethroned Ian Jackson who settled for second and Leer Nunes, third.
The mountain bike category saw Julio Melville beating Ozia McCaulay for the title.
Around the Web