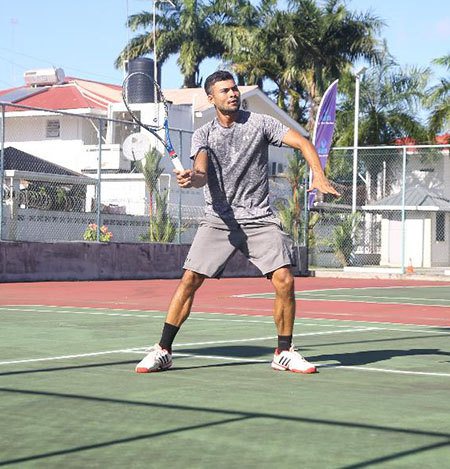 National Men's Open Tennis Champion Anthony Downes has returned from St, Vincent where he was successful in attaining his International Tennis Federation Level 1 certification.
Downes received assistance from ExxonMobil and the Guyana Olympic Association  to attend the intense 12-day course, the first step in furthering his aim of using modern coaching methods to take the game of tennis to a higher level in Guyana.
According to Vice-President of the Guyana Lawn Tennis Association, Robin Singh, Downes will lead the list of coaches in the newly formed Advantage Tennis Academy, which is committed to the growth and development of Tennis in Guyana and the Caribbean.
With the aim for all members to enjoy their involvement in the sport and for those who wish to compete, Advantage Tennis aims to prepare them to play against the best competition both locally and internationally.
Advantage Tennis Academy is based at the Le Resouvenir Tennis Club and has the blessings of Guyana Lawn Tennis Association President Samuel Barakat who said "Anthony has been our best player for some time, an eight-time winner of the GBTI Open, Guyana's premier tennis tournament, to have such a high quality player take up the mantle of coaching augurs well for the development of the game".
Advantage Tennis Academy has a website www.tennisguyana.com where more information about its programs and service offerings can be found. Interested persons can email admin@tennisguyana.com.
Around the Web