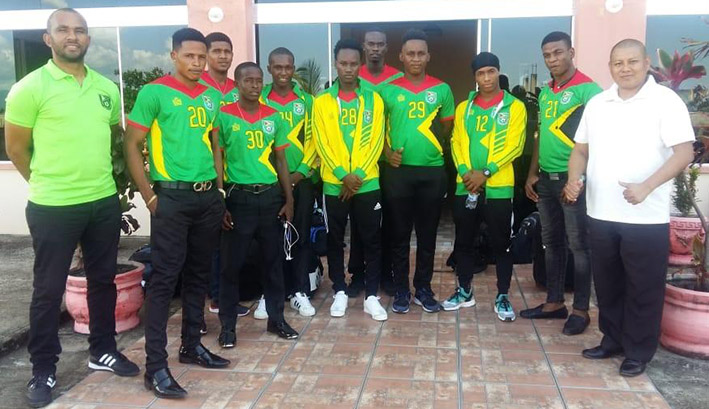 The Golden Jaguars, Guyana's senior national men's football team, arrived in Rio de Janeiro, Brazil yesterday to commence their two-week period of encampment in preparation for their first match of the CONCACAF Nation's League.
The encampment, which commences today, will witness the 23-man squad and 17-man technical staff engage in both on and off-field activities. They will also play four warm-up matches.
The encampment is being held at Hotel Porto Real – Mangaratiba. Ian Greenwood, Technical Director of the Guyana Football Federation (GFF) said that venue for the training stint provides the team with the "opportunity to train at top class facilities with all the appropriate recovery and rehabilitation facilitates."
According to an official release from the federation, "Other potential benefits of the national encampment include: The Head Coach and Staff getting an in-depth look at Guyana-based players to see who could potentially join the Nations League squad in the upcoming Gold Cup 2019 qualification campaign; an opportunity for the players to understand the methodology of the new staff as we look to embed the GFF's National Playing Philosophy into the Senior Men's squad and the opportunity for the Guyana-based Development Coaches to gain first-hand experience operating in a senior professional level."
Greenwood added that the camp will foster "GFF networking opportunity with our close neighbours in Brazil, which will open the door for collaboration with the Brazilian Federation and professional clubs for player and coaching exchanges, as well as future camps with various GFF Age Group squads."
Meanwhile, Head Coach Michael Johnson stated that the camp features activities aimed at developing a winning mindset and drive for excellence.
Guyana has been matched against Barbados, Turks and Caicos Islands, French Guiana and Belize and will play host to Barbados and Belize in September 2018 and March 2019 respectively.
On the other hand, Turks and Caicos Islands and French Guiana will host Guyana in October and November 2018.
Around the Web