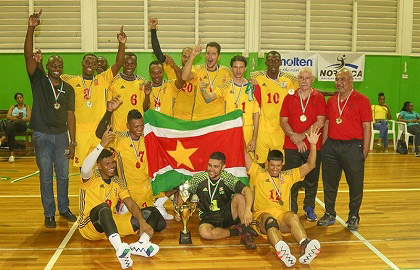 PARAMARIBO, Suriname, CMC – Two-time reigning champions, Trinidad and Tobago had to settle for bronze as Suriname snapped a long drought to win the men's Carib-bean Volleyball Championship for the first time here Tuesday night.
Up against the Bahamas in the final at the Ismay Van Wilgen Sporthal, Suriname dropped one set en route to a 25-20, 13-25, 25-22, 25-23 victory, to win their first-ever title in the 27-year history of the tournament.
They were powered by Keven Sporkslede who counted 20 points, including 16 kills and four blocks while Zefano Breinburg and Gino Naarden both supported with 16 points apiece.
For the Bahamas, Byron Knowles topped the scoring with 15 points and was supported by Byron Ferguson with 14 and Princ'tanique Wilson with 13 points.
"I have never seen the players more focused. My ten years of hard work here has paid off," said Cuban coach Sergio Valdes.
T&T, meanwhile, got the better of archrivals Barbados, also in four sets, 26-24, 25-22, 28-30, 25-22.
They had the ideal chance to take the contest in three straight sets but wasted two match points in the third, as Barbados came from behind to snatch the win and force a fourth stanza.
Barbados had earlier led in both the first and second sets only to throw away the advantage. In the second set, they were in sight of a win at 21-18 but let slip six consecutive points, and T&T wasted little time in grabbing the opportunity presented them.
"We came with a young team and learned a lot from the experience," said Barbados captain Shaw Simpson.
T&T skipper, Sean Morrison, meanwhile said his side had remained focussed.
"We were consistent tonight. We came for a medal and got one."
Daneil Williams of T&T led all scorers with 21 points including 19 kills while Marc Honore chipped in with 17 points, comprising 10 kills and six blocks.
For 10-time champions Barbados, Simpson spearheaded the attack with 15 points, Kyle Browne got 13 while Amuniki Wood supported with 11.
Sporkslede won the Most Valuable Player title along with Best Outside Hitter and Top Scorer.
Around the Web