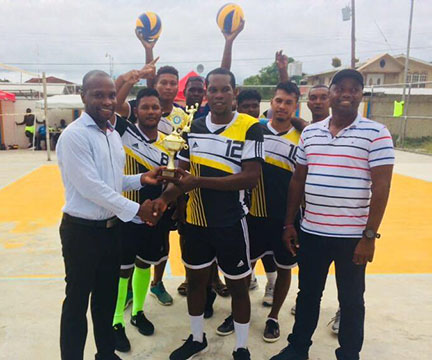 Bartica Warriors last Sunday spiked their way to top honours in the Bartica Town Council invitation volleyball tournament held at the Bartica Community Centre Ground. 
Warriors, in the finals, defeated a Demerara Under – 21 team in straight games 26-23, 26 – 24, 26- 17 to cart off  the winning trophy and a cash prize of $50,000. 
Speaking after the conclusion of the tournament, Gifford Marshall, Mayor of Bartica, disclosed that the event is one of many which will be used to eradicate social problems by engaging youths in the municipality through sports. 
"Today's [Sunday] volleyball tournament is the first of a series which principally has two objectives: provide the necessary exposure for our youths in volleyball and to use sports as a vehicle to eradicate the many social problems being faced by our youths," the Mayor said. 
"We are confident that the above objectives will motivate and inspire other youths to be a part of the change the community is experiencing.
"Through the Director of Sports Office, we were able to develop the volleyball court and install much-needed lights. We will continue to invest in sports as we seek to address the social challenges of our community," the Mayor said, adding that the Municipality of Bartica was pleased to be the sponsor of the event. 
The earlier rounds of the tournament saw Bartica Warriors defeating the Demerara Under 21 team in an early prelude to the finals, 25 – 18, 25 – 17 
Warriors were once again in winner's row in the second match of the tournament when they defeated Bartica Impact 25 – 22, 25 – 19 to earn themselves the first spot in the finals. 
They were then joined by the Demerara Under – 21 team, who downed Bartica Impact 25 – 21, 25 – 22 to earn the other spot in the finals.
Around the Web