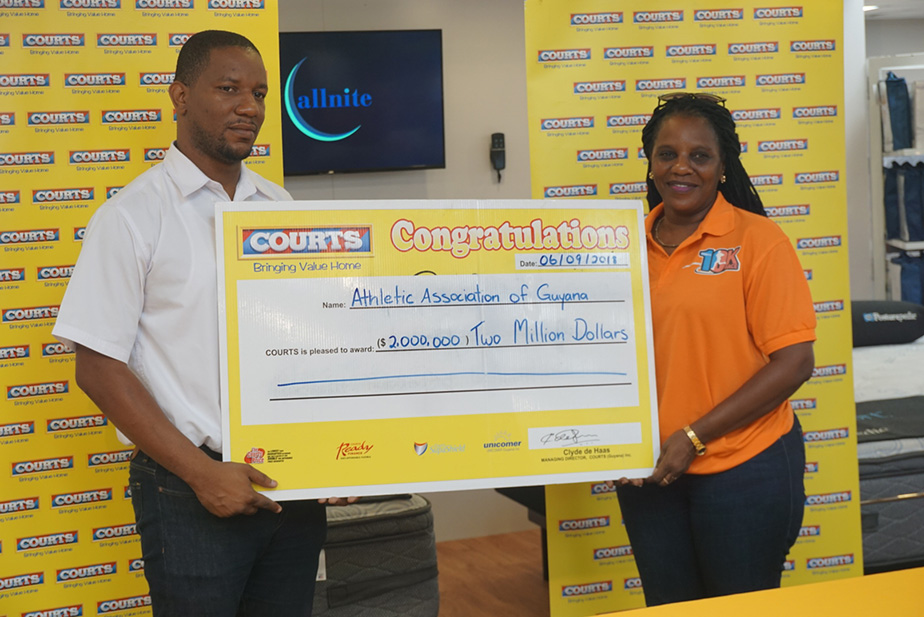 Athletes and road race enthusiasts get ready, the annual Courts (Unicomer Guyana Inc.)10km road race billed for September 30 was launched yesterday at its Main Street head office with lucrative cash prizes on offer.
The eighth running of the event will see $2M going towards the top finishers and logistics.
While the course remains the same, president of the Athletics Association of Guyana (AAG), Aubrey Hutson told those in attendance that the total prize money has moved up from $960,000 to $1.15 Million.
Hutson stated that cash incentives will be rewarded to the top six overall finishers instead of the customary top five and top four masters instead of the usual top three "for the event which has become a staple on our calendar."
Pernell Cummings, Marketing Manager of the company noted that he is looking forward to seeing Guyana's best athletes performing as Courts does its part in helping to develop the discipline.
"The event has been getting bigger every year and Courts is happy to play a part in the development of athletics in Guyana." He added "We are always happy to partner with the AAG to bring off this event."
Cummings then threw down a challenge to the athletes to break the winning streak of Cleveland Forde, the perennial winner of the male category.
The winners of the open male and female categories will pocket $100,000 each, while the immediate runners up will take home $80,000, $60,000, $40,000, $20,000 and $10,000 respectively.
A Golden mile for youths along with a 3K event will be held simultaneously for staff members of the company and the first to third place winners for both male and female staff members will be awarded with cash prizes and trophies.
The fixture which is expected to attract usual suspects, Forde, Cleveland Thomas, Winston Missigher, Joanna Archer and Josiah-Tanner, will run off at 06:00hrs in front of Courts.
Athletes are urged to register at the AAG's headquarters in Alberttown no later than September 24.  (Emmerson Campbell)
Around the Web