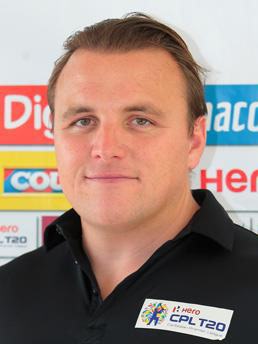 Chief Executive Officer of the HERO Caribbean Premier League (CPL), Damien O' Donohoe has expressed his satisfaction with this year's tournament, stating that the attendance is up by 20 percent.
Speaking at the Marriott Hotel in Guyana recently, O' Donohoe stated "We couldn't be more satisfied. I think CPL is really taken the step up to the next level this year and we are 20% up attendance."
The CEO added that it was due to almost every game in each territory being sold out as well as the television numbers going off the charts.
"Mostly games have been sold out right across the region and our TV numbers have exploded doing the SKY deal in the UK and Star sports in India has really helped our global audience and I think all around the CPL fever in just hitting new heights," O' Donohoe said.
According to CPL, Cumulative audience figures have risen steadily year on year since the tournament's inception from 36 million viewers (in 2013), to 66 million (2014), 93 million (2015) to 134 million (2016).
In 2017, the tournament had recorded an increase of almost 25 percent that totals to an astonishing 200 million views.
With the calculations, it is estimated close to 240 million people have tuned in to the CPL.
Additionally, while the number of teams may not be expanding just yet, the CEO related that it is definitely on the cards for CPL to head to the big apple.
O' Donohoe said that it is public knowledge that the United States is a big focus for CPL, having already broken into Florida to host matches. Now, it is likely that CPL will be played in New York next season.
The CEO stated "I think at the moment we have enough with six obviously we said the US [United States] is a big focus for us so we just went to see a stadium in New York a couple of weeks ago and we are definitely looking to play games there next season."
With the six teams working just fine in the opinion of O' Donohoe, he related that it was not out of the question to expand the number of teams, indicating that "if we've got the rights to expand in the US we might go up to eight teams but that's somewhere down the road from now, we've got six great owners that has worked really well as is and I don't see a change in the near future."
Around the Web