Curtis Dey (Trojan Cycle Club) took a stunning solo victory in this year's Victor Macedo road race yesterday after attacking late and holding off his breakaway mates.
The 19-year-old standout wheelsman placed first in the 16th edition of the annual fixture while leading Alonzo Ambrose and Paul DeNobrega onto the podium for the race which rolled off in Peter Rose street, continued to Long Creek on the Linden Soesdyke Highway and concluded on Homestretch Avenue.
The national rider who recorded his fifth win of the season, stopped the clock in 3h:16m:47s for the grueling 73-mile, sunbaked event.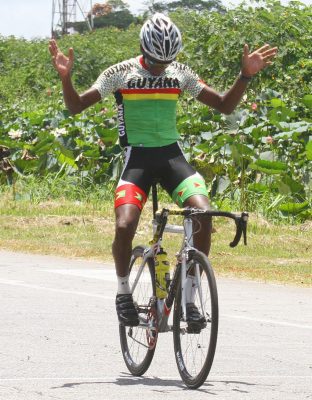 Andrew Hicks, Ajay Gopilall, Deeraj Garbarran, Andre 'Padlock' Green and Balram Narine completed the top eight rewarding positions for the Flying Stars organized fixture.
The Berbician along with DeNobrega and Gopilall innocuously moved away from the peloton after coming out of the highway and immediately gained a decent gap to an elite group of riders behind.
With no urgent impetuous to chase from anyone, the trio was allowed to ride out as rivals marked each other.
However, soon three became two as Gopilall fell off his bike and off the pace. It was now up to Dey and DeNobrega to work together and preserve the lead despite the heavy winds. That they did until a tireless Dey smelt blood and attacked DeNobrega at DSL on Mandela Avenue. DeNobrega failed to respond in time and Dey went into time trial mode to add another to his palmarès.
The chase pack bridged DeNobrega and Ambrose who also placed second last year, was able to beat him into third place in a sprint finish, with Hicks taking fourth place.
At the conclusion of the event, prizes were shared out to the top finishers by members of the Macedo family. The organizers also mentioned that plans are in place for making next year's staging a bigger and better event by inviting overseas cyclists to compete.
Quick Results
Top eight overall
1st Curtis Dey           
2nd Alonzo Ambrose
3rd Paul DeNobrega
4th Andrew Hicks
5th Ajay Gopilall
6th Deeraj Garbarran
7th Andre Green
8th Balram Narine
Juniors
Ajay Gopilall
Adelie Hodge
Donovan Fraser
Veteran
Junior Niles
Mark Spencer
Leer Nunes
Mountain Bike
Jude Bentley
Julio Melville
Quincy Punch
Around the Web