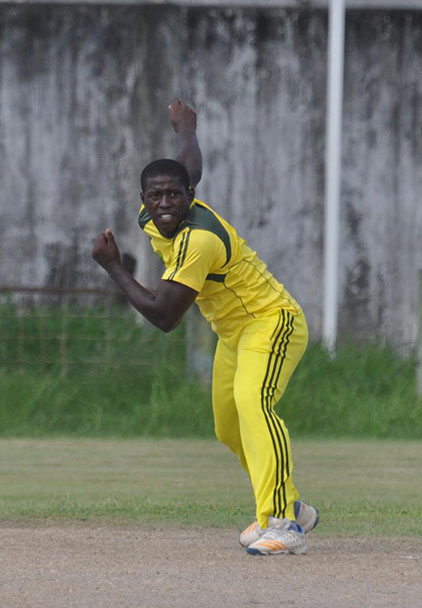 If you press your ears to the pulse of keen cricket followers in Guyana, one would quickly agree with their sentiments regarding the continued exclusion of Essequibo skipper Anthony Adams from the national set-up. 
 On the other hand, those very pundits are also quite intrigued by the swift rise of one of Guyana's overseas franchise players, Ramaal Lewis, who, ironically, has worked his way to becoming the country's first-choice off-spinner. 
 It is the reluctance to hand Adams his deserved opportunity, which influenced this piece. 
 Instead of building a case as to why Adams should be given his opportunity, let us from the onset point out the difficulty in slotting him into the squad which also features two other left-arm spinners in Gudakesh Moti and Veersammy Permaul who are seemingly ahead of him.
 His inclusion would have seen therefore as leaving little room for 'variation' in the bowling attack, one which currently features four like-for-like right arm seam bowling all-rounders with little difference between them.  
 That aside, what is the reward for someone who continues to prove himself, someone like Adams who plays for 'Essequibo' and continues to bamboozle the country's 'top batsmen.' 
The argument against his inclusion alongside that of Moti and Permaul can be further dispelled since some would call for Guyana's best bowling unit to be out on the park simultaneously, thereby making way for Adams. 
 While that is not the case, the young man remains optimistic about getting his opportunity. 
 "It's a bit disappointing, but at the same time my selection is out of my control. But what I try to do is control what I can, and that is going out there and put out performances at every opportunity I get," Adams, who took 12 wickets from five matches and stroked two half-centuries to guide Essequibo to GBC one day franchise title, revealed. 
 Though, obviously disheartened, the 25-year old indicated that he is exercising patience with the hope of earning a prolonged run at the first-class level. 
 "I'm a very patient person, and I believe that I will get my opportunity soon. The Regional four – day is coming up and I'll be working hard and hoping to do well again in the upcoming three-day franchise league to possibly earn a spot," he added. 
 Lewis, on the other hand, a Jamaican who has previously captained the West Indies Under – 19 team, has earned his stripes locally and is now regarded as the number one off-spinner in Guyana. 
 He too collected 12 wickets in the just concluded one – day franchise league and has credited Guyana's ideal cricket environment for his development.
 "Guyana is one of the better places to come and improve. You guys have a lot of quality spinners here who have been dominating first-class cricket, and they are quite easy to learn from," the Jamaican remarked.
 Touching on his form heading into the Regional super – 50 championship, Lewis articulated that he is now keen on replicating his form at the regional level. 
 "12 wickets from five games, I will take that anytime so I'm comfortable and I just need to bring over this form into the Regional super – 50 and do well." 
Around the Web