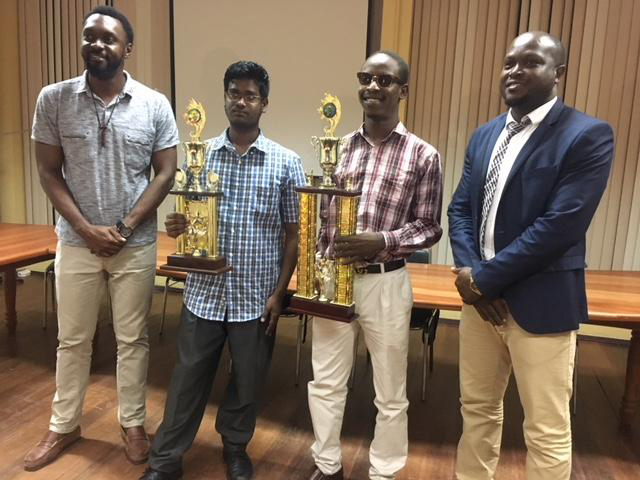 A new breeze is blowing, and a nation refreshed by freedom stands ready to push on. – George H W Bush, president of the USA.
Wendell Meusa and Joshua Gopaul won the 2018 National Senior and Junior Chess Championships, respectively. Both players were committed to a deciding playoff of three games each since both were tied on an equal number of points.
The first game of the playoff was set to last for 15 minutes per player; the second, 10 minutes per player and the third, 5 minutes per player. Both Meusa and Gopaul, who is a St Stanislaus College student, won their playoffs without need for the third game.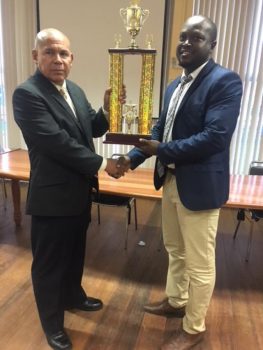 Monday evening's finals was the culmination of two successive weekends of competition. In the senior category Anthony Drayton placed second, Loris Nathoo third and Taffin Khan fourth. Ghansham Allijohn was second among the juniors.
The National Championships symbolized a new direction for chess in Guyana. Last year, Guyana won the Caribbean Chess Cup and at the 2016 Chess Olympiad, the nation captured two prime chess titles through Drayton and Maria Varona-Thomas.
It would seem that the mist which shrouded the road to grandmaster stardom is gradually lifting and things are becoming clearer. Guyana's tourism sector could be boosted by its sporting accomplishments, and predictably, chess is gearing to play a vital part.
One hundred and seventy countries comprise the World Chess Federation and Guyana is included. In time, Guyana will make its mark in international chess.
Meanwhile, the National Women's Chess Champion-ship is scheduled to take place shortly. Varona-Thomas would start as favourite since she is the strongest woman chess player in the country. She represented Guyana in the 2014 and 2016 Chess Olympiads competing among the men.
Around the Web