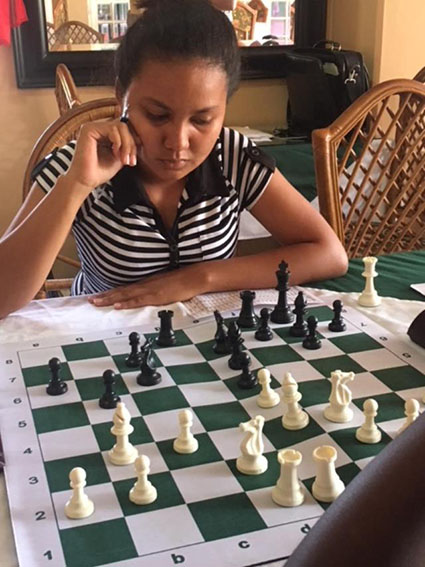 When the two ears are put side by side [they form] the shape of a heart. Interestingly, the word ear sits right in the middle of the word heart (h-ear-t). The ear is the only way to the heart so if you want someone's heart, learn to listen to them. If you want God's heart, learn to listen to Him. – Abraham Hicks
I had presupposed Woman FIDE Master Maria Varona-Thomas's victory at the 2018 National Women's Chess Championship. That supposition was based entirely on her past and recent successes when engaging her male counterparts, in addition to the unimpressive collective playing strengths of her vanquished colleagues.
Varona-Thomas was the only woman to qualify for the men's Championships. Nellisha Johnson, 16, of Christ Church Secondary with origins in Orealla, placed a surprise second. Johnson's victory over FIDE Candidate Master Sherrifa Alli can be considered a major upset in the Championship. Although Alli does not surpass Varona-Thomas in FIDE Elo rating points, she was still expected to overcome Johnson without a fuss. Surprisingly, she did not, and that result constituted the upset.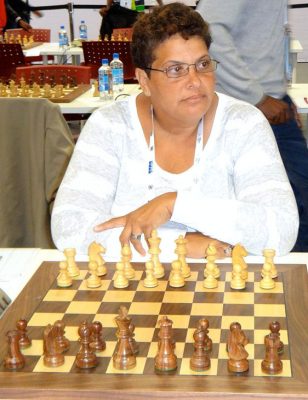 However, Alli made amends by holding Varona-Thomas to a draw during one of the later games and finished third. Waveney Johnson, Nellisha's sister, also a student of Christ Church Secondary, was fourth, and Yolander Persaud, fifth.
A release from the Guyana Chess Federation (GCF) stated the National Women's Championship would be used as a yardstick for consideration of a women's Olympiad chess team scheduled to be held in September in Batumi, Georgia.
When the National Men's Chess Championship was held two months ago, the GCF was not as forthcoming in determining that the top finishers may be eligible for representing Guyana at the 2018 Chess Olympiad. Hopes were left dangling. However, participants knew a top placement would ensure their eligibility and therefore played chess solemnly to suit the occasion.
I had written earlier that even with a subsequent tournament to determine the Olympiad participants, hardly anything would be different, the GCF would be fielding the most competent team.
Varona-Thomas is Cuban-Guyanese and has been playing competitive chess for a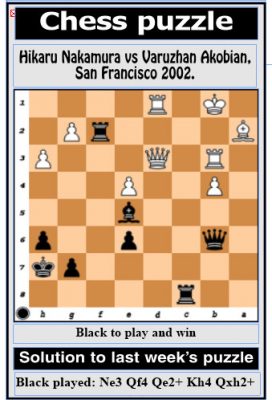 number of years in Cuba and Guyana. She represented Guyana at both the 2014 and 2016 Chess Olympiads. Wendell Meusa, Anthony Drayton, Loris Nathoo and Taffin Khan are expected to play well among the Caribbean nations. We have to wait and see. Incidentally, Drayton won the 2018 Chess Classic which was put together to coincide with the National Women's Championship.
While both championships were tantalizingly refreshing, they were not fulfilling. Nathoo expressed the view that the championships should have been held under similar tournament conditions as the Olympiad. Nathoo was referring to the time factor which he felt should have been identical to the Olympiad. For example, if each player is required to make 40 moves in two hours at the Chess Olympiad, the identical time limit ought to have been practiced. Acclimatizing oneself to the stipulated time of the Olympiad is undeniably important. Perhaps the improved GCF may wish to consider hosting one or two serious competitions using the Olympiad time format before September, in order to give Guyana's representatives some necessary practice.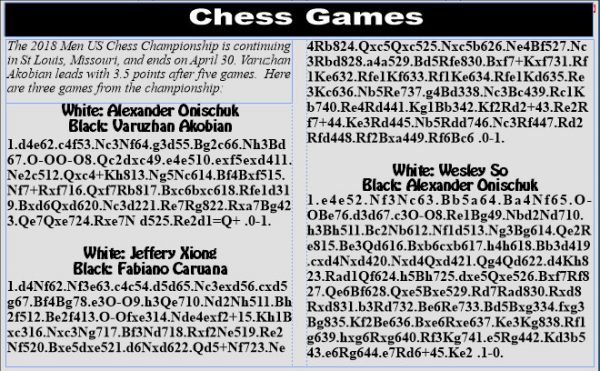 In international news, grandmasters Sam Shankland and Fabiano Caruana are leading the US Chess Championships with five points after seven rounds. The 2017 US champion Wesley So is hard on their heels with 4.5 points. The US Championship and Women's Championship are both 12-player, single round-robin tournaments which end on April 30. Caruana has qualified to challenge Norway's Magnus Carlsen for the world championship title in October.
Around the Web