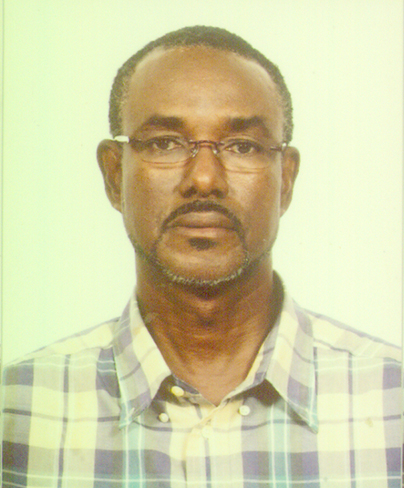 At 58, Wayne Walcott reflects on a life in athletics out of which, he says, he has derived immense satisfaction. It began when as a youngster living in Wortmanville he would venture into the neighbouring village, Lodge, and onto D'Urban Park, still Guyana's best-known horseracing track, to benefit from the physical training and lessons in personal discipline, that used to be imparted by one of Lodge's best-known sons, a remarkable man named Harold 'Lightweight' Kissoon, who, ironically, spent a good part of his adult life battling considerable physical deformity.   
He reflects, as well, on his experience of an underdeveloped but still fairly well-organised sports regime in the local school system, not least, at schools like Smith Church Congregational and Bedford Methodist where, he says, top athletes like 'Pepe' Beaton secured schoolboy folk hero status on account of their exploits on the track. In this underequipped laboratory, Wayne says, athletes, inter-school football and cricket and a general sense of 'staying healthy' which appears less evident these days, thrived.   It was, he said, an environment that allowed you to dream dreams of fame and glory even in circumstances where it was probably unlikely that you would realise them.
Wayne stayed with his dreams, his initial interest in athletics eventually seeing him 'graduate' to coaching, sports administration and these days to a host of sports-related areas, including sports medicine. As a local, Coach Wayne also established his own club, the Bedford All Stars.  His credentials in the sport of weightlifting acquired through his association with the well-known Sandow Gym led to his acquisition of credentials as an international weightlifting Technical Official.
The holder of an Associate Degree in Athletics from Olympic Solidarity – a Pan Ame-rican Sports Organi-zation – Wayne, now resident in the United States is currently in Guyana pursuing what arguably, is the biggest sports-related undertaking of his life.  Persuaded, it
seems, that what he has undertaken can help bring about the realisation of the upward trajectory in local athletics that has never really gotten past the stage of wishful thinking, Wayne has become the 'lead player' in an initiative designed to create a High Performance Training and Rehabilitation Facility at Coverden on the East Bank Demerara. The envisaged facility which he believes can potentially change the face of local athletics and for which he says has already secured a commercial bank funding 'green light', is being established on a 20-acre plot of land, which, according to him, has been in his family for several generations.  
The construction of the multi-million dollar facility which is scheduled to begin by December will, according to Wayne, provide facilities that will address some critical but frequently overlooked aspects of local sport including sports medicine, physiotherapy and sports psychology, The facility, he says, will also venture into the marketing of sports equipment and provide services in the realm of occupational safety and health and recovery and recuperation for athletes. What is envisaged as a 'health and comfort' complex will also embrace organic farming on a portion of the land already identified for the purpose.
A business venture to which, Wayne says, he has already attracted at least one other investor in the United States, will also include supporting sports training facilities which are being designed to lure athletes in training or in pursuit of recuperation to Guyana. This particular initiative, Wayne says, has the potential to both popularise and raise the standard of local athletics on account of Guyanese athletes and fans of athletics being able to 'rub shoulders' with their more illustrious overseas counterparts.   
Around the Web