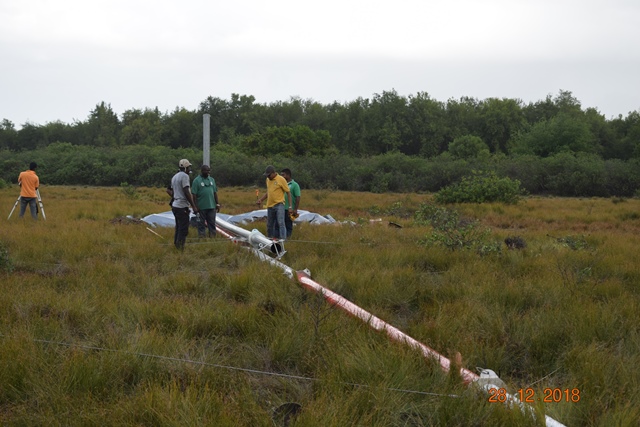 The Ministry of Public Infrastructure (MOPI) has begun the installation of four wind measurement stations along the Atlantic Coast at a cost of more than $33.5 Million (US$160,000) to determine the potential for the generation of energy from this source.
The stations, which are being mounted on towers at a height of 200 feet each, are being installed along the coast at Onverwagt West Coast Berbice in Region Five, Mahaica/Berbice and at Port Mourant, Number 63 Village and Crabwood Creek in Region Six, East Berbice/Corentyne respectively, the Department of Public Information (DPI) reported on Monday.
The project is being undertaken by the Hinterland Electricity Company Incorporated (HECI) which comes under the purview of the MOPI.
Chief Executive Officer (CEO) of HECI, Horace Williams told DPI that once the towers become operational, sensitive electronic equipment on the towers will provide accurate knowledge of the wind power along the Atlantic Coast and provide very important long-term wind speed records.  Data will be retrieved via a cell phone platform, for a period of one year, DPI said. This data will be analysed and then determinations will be made about the potential and whether wind can become a  part of the national energy mix.
Work on the installation of the first tower on the foreshore at Onverwagt began last week. Williams said that annual mean wind speeds of seven metres per second would satisfy the requirements of wind turbines which can become operational on each location.
The assessment period comes to an end on December 31, 2019. 
The project is being funded by the Global Environment Facility (GEF) and is being managed by the Inter-American Bank (IDB).
Around the Web