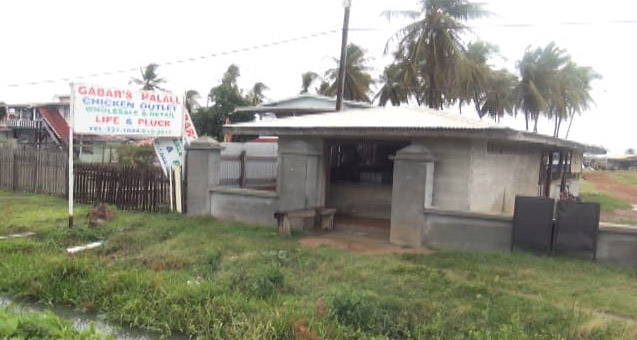 Several thieves on Wednesday morning broke into Gabar's Halal Chicken Outlet located at Clifton Settlement, Corentyne, Berbice, and stole cash, chickens and beverages.
The owner, 54 year-old Doodnauth Takapersaud, also known as 'Gabar' who resides at the back of the outlet in the same yard at Lot 13 Clifton Public Road, told reporters that he was asleep when he heard noise coming from his chicken outlet.
 "About 10 minutes to 1 [am], me hear fowl a holla and when we peep and me see them turn off the light," the owner was quoted as saying.
 He relayed that the men eventually made good their escape, while he secured himself and family in his house.
A subsequent check revealed that the thieves made off with $15,000 in cash, five plucked chickens and a few aerated beverages.
Meanwhile, a police source told Stabroek News that no one has yet been arrested.
 Takapersaud explained that he was previously robbed about one month ago. On that occasion also, the men broke into his outlet and stole $183,000 in cash along with 15 plucked chickens, an electric saw, a quantity of aerated beverages and a few cans of XL energy drink.
The owner also noted, that he has several suspects in mind and explained that he and a few other villagers are before the court against some men regarding a land issue.
The businessman alleges that in the past, the men have assaulted his employees while searching for him and have also pelted his house.
"Since last year we before the court for the land and them been come here looking for me and them broadside them girls wah a work with me. I went and report and them lock them up and loose them next day. Then them pelt me house down, me report them and lock them up and loose them next day again," the clearly frustrated man added.
Takapersaud stated that he visited Georgetown and filed a report at the Police Complaints Authority. "Somebody tell me go to the commander because me say me na go back at Whim [Police Station] to meet that man in charge."
According to the man, after meeting with Commander of 'B' Division, Paul Langevine, the men were arrested and later placed on bail.
"The last thing me hear is that the file deh DPP [Director of Public Prosecutions]."
The businessman is calling on the police in Berbice to up their game and arrest the persons who are responsible for committing such acts.
Around the Web