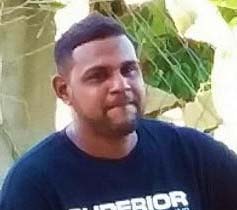 (Trinidad Express) A taxi driver hired to transport a man to collect money in Cunupia, was killed on Sunday.
Kenneth Nagim, 35, of Longdenville, was found tied up with his throat slit in an abandoned building at Boodram Street.
Even before the police arrived at the family's home to inform them of Nagim's murder, a gory photograph of the murdered man was being shared on social media.
It is uncertain if the photograph was taken and shared by responding police officers, or by people who were at the scene before police arrived.
The family said they were horrified over the image of their loved one.
Police were told that Nagim was at home on Sunday afternoon when he was hired to drive three men to that location.
Nagim took the men in his vehicle, and when he arrived there, one of the passengers went into the building.
Minutes later, Nagim was called into the building, police were told.
The killer/ killers him tied up, slit his throat and left him for dead.
Nagim's passenger was also tied up.
Police were contacted around 7 p.m. by a resident in the area who informed them that Nagim was killed, and another man was tied up and left in the building.
At 9.30p.m. the family was told of his death. By then, they had already heard of the photograph being shared.
Officers of the Cunupia and Chaguanas CIDs, Central Division Task Force and Homicide Region III responded.
Nagim is the seventh homicide in as many days for the year.
Around the Web