Vivian Harris announces retirement after being stopped by Britain's Rose
By Gary Vyse
Former World Boxing Association (WBA) light welterweight champion Vivian Harris has announced his retirement after being stopped by Britain's Brian Rose.
Harris, who stepped up to light middleweight to take on Rose in front of his adoring and boisterous home crowd in Blackpool, was caught flush on the chin in the third round by a swift counter as he stepped forward against his backed-up opponent.
The New York-based Guyanese fighter's body folded as he collapsed to the ground where he was counted out on all fours.
Speaking exclusively to the Stabroek Sports after the contest, Harris said he was finished with boxing.
"That's it! I'm going to give it up. I moved up to 147-pounds and now 154-pounds and it still wasn't feeling right," he said. The build-up to this fight was tinged by a row which erupted at the weigh-in when Rose came in a pound over the agreed 154-pound limit but opted to drink water rather than burn off the excess weight – much to the fury of the Harris camp.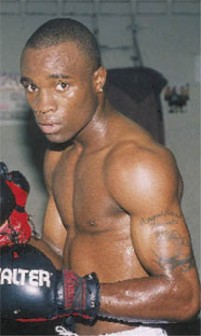 Harris, meanwhile, had diligently pushed himself to half a pound under the limit and the issue was still fizzing in Harris' sore head after the contest.
He added: "Recently, I've got to take fights I don't want to take. I made the weight but he [Rose] came in overweight."
The combination of Rose, a British middleweight champion, and Harris, a former world title holder, together in the ring in a competitive contest said as much about Harris' decline as it did about the aspirations and abilities of Rose – a competent but hardly spectacular operator.
Where Harris once traded blows under the bright lights of Vegas, instead he hauled his weary body to the 'Vegas of Britain'.
Blackpool city centre on a Friday night is a setting of drink and merriment, framed by flashing light bulbs which light up the coast heading out to Ireland.
Rose entered the ring at Blackpool's chandelier-strewn ballroom, the Winter Gardens, to a crackling reception punctuated by Blackpool Football Club chants: "Sea-sea-seasiders! Sea-sea-seasiders!" That proved to be the most exciting moment of a contest that never caught fire as both men feinted away and prodded the air with jabs.
The opening two rounds were even as Harris stalked and Rose moved back but neither fighter opened up, let alone connected with anything meaningful. It posed the question – were the boxers preparing to unload a surprise?
The answer came later in the third round as Harris moved forward with a nice combination that had Rose on the back foot. Rose was prepared with an excellent counter shot that detonated on Harris' chin.
It closed the chapter on the fight and, if he is true to his word, Harris' career.