Austin 6 wins Azad Hussein birth anniversary dominoes competition
Wayne 'Master' Austin led from the front making 17 blistering games as his team won the Azad Hussein birth anniversary dominoes competition  at the Everest Sports Club pavilion recently.
Austin Six won from King 6 captained by Looknauth 'King' Persaud and Shew 6 led by Manniram 'Packer' Shew.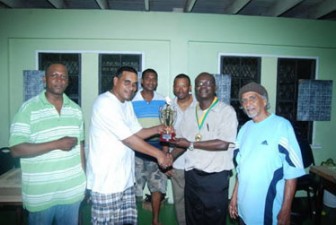 Austin 6 commenced proceedings by marking 16 games in the first sitting and thereafter never lost the lead.
Their only scare came in the final sitting when all the games were wiped off and it was left to Roderick 'Dayclean' Harry to bring home the bacon  which he did in style.
Stephen 'Cry Out' Lewis shared the first double love in the match in the second sitting inflicting the ignominy on  Amir 'Generator' Khan and Intikab 'Corby' Ali while Austin took Shew down lovers' lane in the third sitting.
Medals were awarded to the top players from each team and they were Charles 'Afro' Dodson, who marked 15 games for King 6 while Martin 'Slyfox' Premaul made the maximum 18 games in a losing cause for Shew 6.
Austin with 17 games, was his team's top scorer.