US Embassy donates vehicle to NOC
US Ambassador, D. Brent Hardt on Friday, presented to the Ministry of Culture, Youth and Sports, a Toyota Prado Land Cruiser to be used by the New Opportunity Corps (NOC), a release from the Embassy said.
The donation complements US aid under the Skills and Knowledge for Youth Employment (SKYE) project.  The USAID SKYE project focuses on ramping up employment, education, and other opportunities for at-risk youth; reintegrating youth offenders into society; promoting diversion and alternative sentencing for youth within the justice system; and bolstering the environment for youth development in Guyana.  The NOC is one of the key partners that receive assistance under the SKYE project.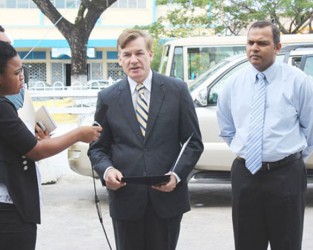 The release said that through the project, youth within the NOC tap support to facilitate reintegration into their communities after they exit correction facilities.  An employment coach resident at the facility guides youth in the working up of employability plans.
To complement this coaching support, SKYE pairs up with local organisations to provide work readiness training so the youth can learn skills needed to gain and keep employment.
Most Read This Week